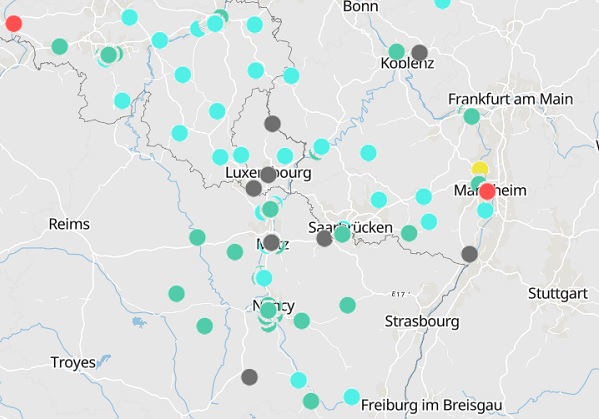 Credit: SIG-GR
The Greater Region Geographic Information System (Système d'information géographique de la Grande Région - SIG-GR) and ATMO Grand Est have joined forces to set up an interactive air quality map for the entire territory of the Greater Region.
Available in three languages ​​(German, English and French) on the Geoportal of the Greater Region, in the "Environment" section, this interactive map allows residents of the Greater Region to consult the air quality at a given moment on the entire territory in a few clicks.
The map reports, hour by hour, the air quality assessed at the level of the 98 measurement stations in the territory of the Greater Region with information on the type of measurement station. The measured data come from the stations managed by the following five institutions from the Greater Region and approved for each territory: Luxembourg's Environment Agency, ATMO (Grand Est), Landesamt für Umwelt (Rhineland-Palatinate), Landesamt für Umwelt- und Arbeitsschutz (Sarrland) and Service public de Wallonie (Wallonia).
The map was drawn up under the auspices of the "Environment" working group of the Greater Region summit and more particularly of the "Cross-border networking of air quality data" sub-working group.
The scale shown is based on the European Air Quality Index calculated from five major pollutants which are harmful to the health of humans and the environment:
- fine particulate and particulate matter (PM2.5 and PM10)
- tropospheric ozone (O3)
- nitrogen dioxide (NO2)
- sulfur dioxide (SO2)
A sub-index is calculated for each pollutant measured by the station from the hourly average of the pollutant concentrations except for particles (PM2.5 and PM10) where the sub-index is based on a sliding average of the concentrations over 24 hours. The index displayed is the highest of the sub-indices for each pollutant. It is rated on a scale from "good" (index 1) to "extremely bad" (index 6). An interactive layer is available both for the index and for each of the five sub-indices.
This first cross-border collaboration on air quality at the scale of the Greater Region is considered a first step towards more ambitious projects.
The map can be consulted via this link.