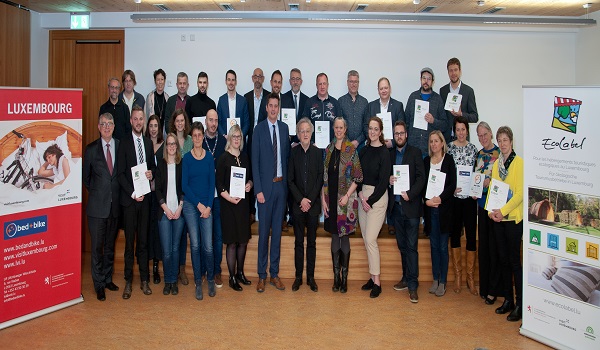 Luxembourg's Minister of the Environment, Carole Dieschbourg, and Minister of Tourism, Lex Delles, with EcoLabel laureates; Credit: Emmanuel Cahen / Kapture
At the 20th anniversary ceremony of the EcoLabel on Tuesday, fourteen establishments received the national label for eco-friendly tourist accommodation.
Created in 1999 with the aim of promoting and developing sustainable tourism in Luxembourg, the EcoLabel currently recognises the eco-friendly practices of 42 hotels, campsites, hostels, group accommodations and rural cottages. A collaborative initiative between the Ministry of the Economy, the Oekozenter Pafendall ASBL and the Ministry of Environment, Climate and Sustainable Development, the EcoLabel has become a national reference point, with more than one in ten tourist establishments currently affixed to the label.
At the 20th anniversary ceremony, Luxembourg's Minister of the Environment, Climate and Sustainable Development, Carole Dieschbourg, stressed the importance of this national label: "The EcoLabel is an essential quality certification that has enabled Luxembourg to show its attractiveness and ecological competitiveness in the field of tourism. It is important for me to continue these efforts and to bring national criteria closer to European standards in order to ensure a harmonised international process".
For his part, Minister of Tourism, Lex Delles, added that "environmental awareness has created the need for an eco-label that guides tourists and residents. An eco-friendly business is increasing its attractiveness considerably, which is why the challenge for tourist accommodation is to meet the criteria of EcoLabel labeling. This label allows certified establishments to reduce their impact on the environment and thus contribute to the protection of natural resources and the climate".
The ceremony also saw Théid Faber, president of the Oekozenter Pafendall ASBL, and Isabelle Schummers, coordinator of the EcoLabel, reiterate the essential role of the EcoLabel for tomorrow's tourism: "The EcoLabel is an example of voluntary integration successful environmental and climate protection in sectoral policies. It is also a contribution to the promotion of quality and gentle tourism, a pillar of tomorrow's strategy in this area".
In the evening, Lex Delles also officially presented the label to fourteen establishments that successfully met the certification criteria. The Tourism Minister also handed out the official bed+bike labels. In this context, he said: "We are celebrating a first tonight: we are not only celebrating the 20th anniversary of the EcoLabel, but we are also awarding the bed+bike label. This is the first time that we have a joint ceremony, and that is right, because cycling and sustainability are closely linked. Cycling is not only good for health, but it is also the most environmentally friendly means of transport. The 95 establishments that currently carry the bed+bike label therefore adapt their services and infrastructure to the specific needs of cyclists and thus promote soft tourism".
The fourteen new EcoLabel certified establishments are:
Auberge de jeunesse Larochette (gold)
Camping Liefrange (gold)
Château d'Urspelt (gold)
Hôtel-Restaurant Au Vieux Moulin, Lauterborn (gold)
Gite à la ferme Aust, Bettel (gold)
Mondorf Parc Hôtel****superior (gold)
Auberge de jeunesse Remerschen (silver)
Auberge de jeunesse Vianden (silver)
Camping Schützwiese, Wasserbillig (silver)
Le Royal Luxembourg (silver)
Meliá Luxembourg (silver)
Mercure Luxembourg Kikuoka Golf & Spa, Canach (silver)
Misärshaff - Centre de formation pour jeunes, Arsdorf (silver)
Ibis Esch Belval (bronze)
The six new bed+bike certified establishments are:
Hostellerie du Grünewald, Luxembourg
Camping Liefrange
Hôtel Casino 2000, Mondorf-les-Bains
Meliá Luxembourg
Europacamping Nommerlayen, Nommern
Hôtel-Restaurant Suma, Remich