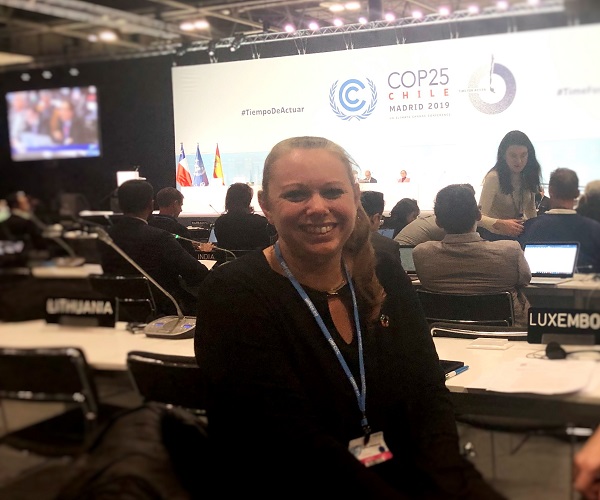 Carole Dieschbourg, Minister of the Environment, Climate and Sustainable Development, in Madrid; Credit: MECDD
The 25th United Nations Framework Convention on Climate Change, also known as COP25, ended in the early afternoon of Sunday 15 December 2019 following long negotiations; Minister of the Environment, Climate and Sustainable Development, Carole Dieschbourg, chaired the Luxembourg delegation on this occasion.
The COP25 negotiations, which took place from 2-13 December 2019 in Madrid, ended with a compromise deal encompassing several decisions. These included a political decision notably calling on states to increase their national determined contributions (NDCs) in 2020 in order to achieve the objectives of the Paris Agreement in terms of mitigation, adaptation and means of implementation and drawing on recent scientific results, the revision of the Warsaw International Mechanism on loss and damage (WIM) and Lima's enhanced work programme on gender and its action plan for gender equality.
Nevertheless, Luxembourg has expressed regret that the decision on the implementation of Article 6 of the Paris Agreement relating to the rules applicable on the carbon markets could not be adopted. During these laborious negotiations, the Luxembourg delegation pleaded throughout for an ambitious result through coordination between the member states of the European Union and one which would present the EU as the ambitious world leader in climate action.