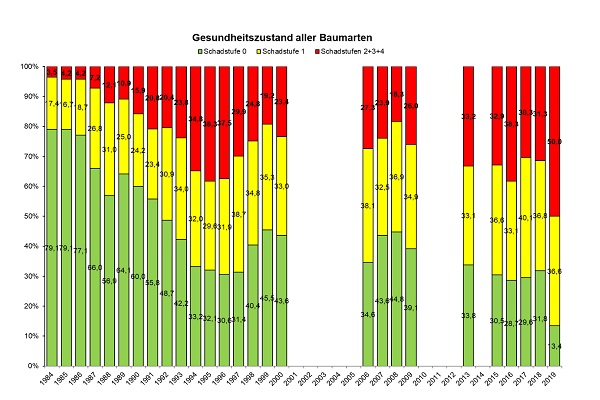 Credit: MECDD
The state of health of Luxembourg's forests has continued to deteriorate this year, according to a government study.
On Wednesday, Luxembourg's Minister of the Environment, Climate and Sustainable Development, Carole Dieschbourg, and the Director of the Nature and Forest Agency, Frank Wolter, presented the state of health of the country's forests for the year 2019, as well as the three main measures of the "Klima-Bonus" forest programme.
The "Phytosanitary Inventory of Forests", which has been carried out every year since 1984, once again demonstrated a serious deterioration in the state of health of Luxembourg's trees in general. More specifically, the study found that half of forests in the Grand Duchy are severely damaged or dead, with only 13.4% showing no signs of damage (compared to 31.8% in 2018). Meanwhile, 36.6% of trees were found to be slightly damaged. Indeed, the study revealed an additional 18.7% degradation compared to 2018.
On this occasion, Minister Dieschbourg also presented the "Klima-Bonus" programme for forests which mainly aims to strengthen advisory, training and technical assistance structures, adapt financial aid for forest owners and provide a support tool for the selection of species adapted to the season.