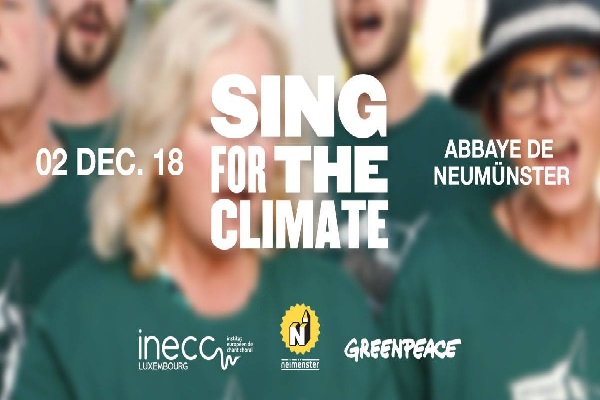 Greenpeace Luxembourg, in partnership with the Neumünster Abbey and the European Institute of Choral Singing (INECC), is organising the event "Sing for the Climate" at the Neumünster Abbey on 2 December 2018 from 12:00.
The event invites the public to come together and show support for climate protection through singing and will be recorded and published across social networks as part of the worldwide "Sing for the climate" movement that already brings together more than 400,000 citizens in 49 countries.
This civic mobilisation calling for greater action against global warming takes place in preparation for COP24 (the United Nations Conference on Climate Change in Katowice), which will begin the day after the event.
The event begins at 12:00 with rehearsal from 14:00 and the final recording of the song "Do it now!" (on Bella Ciao) will take place at 14:30.
For more information, visit https://www.greenpeace.org/archive-luxembourg/fr/news/Faites-entendre-votre-voix-/?fbclid=IwAR3c_teDl-j9LRgNOQkHwDHB_OajhSa2rvhZQmppIngjHMnml_qH_Sp1QAw.