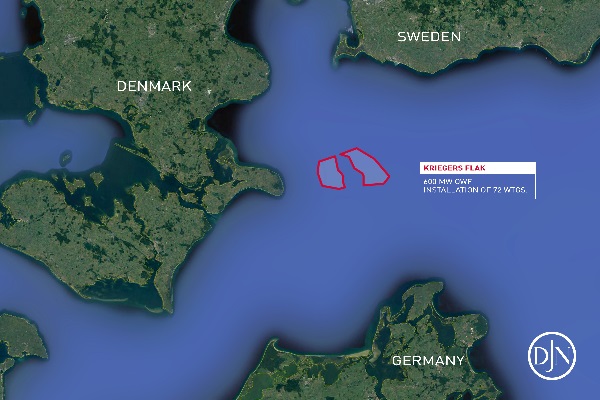 Kriegers Flak offshore wind farm; Credit: Jan De Nul Group
The Luxembourg-headquartered Jan De Nul Group has signed a contract with Vattenfall Vindkraft Kriegers Flak P/S for the transport and installation of 72 8.4MW Siemens wind turbine generators for the Kriegers Flak offshore wind farm in Denmark.
The Kriegers Flak offshore wind farm is located in the Baltic Sea in water depths varying between 15 and 30 metres, 15 kilometres from the coast. In 2017-18, Jan De Nul Group already built, towed and installed two large gravity-based foundations for the Kriegers Flak's offshore high-voltage stations.
"We are proud to have won a contract for a WTG [wind turbine generators] offshore installation project of this magnitude," said Philippe Hutse, Offshore Director at Jan De Nul Group. "This confirms that Jan De Nul is a reliable and experienced partner in the installation of large offshore wind farms. Our investments in know-how and equipment for offshore installation work are paying off".
Installation works will begin in the first quarter of 2021 and will take four months.