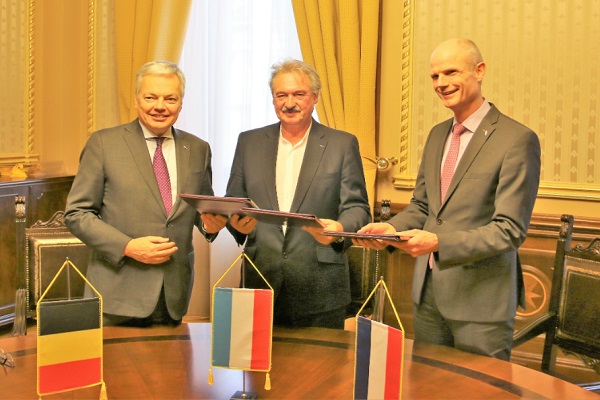 L-R: Belgian Foreign Minister Didier Reynders; Luxembourg Minister for Foreign and European Affairs Jean Asselborn; Minister for Foreign Affairs of the Netherlands Stef Blok; Credit: (c) MAEE
The Benelux countries have signed a Memorandum of Understanding for scientific cooperation under the Comprehensive Nuclear-Test-Ban Treaty (CTBT).
Luxembourg Foreign Minister Jean Asselborn, Foreign Minister of the Netherlands Stef Blok and Belgian Foreign Minister Didier Reynders today signed the agreement on the sidelines of the informal meeting of ministers of foreign affairs ("Gymnich") in Bucharest.
The CTBT is an instrument for the international non-proliferation regime in the field of nuclear tests. Indeed, such tests are considered illegal all over the world and only one country, the Democratic People's Republic of Korea, has violated this international standard in the 21st century. The CTBT is responsible for ensuring that no nuclear test escapes international surveillance. As such, a monitoring system using advanced technology to detect nuclear testing worldwide has been put in place. Member States can help by analysing surveillance data and examining all suspicious events, usually using national data centres.
In this context, the Foreign Ministers of Belgium, the Netherlands and Luxembourg have decided to strengthen their scientific cooperation in this area. The Memorandum of Understanding signed today will facilitate the pooling of expertise and joint analysis. This cooperative effort should lead to a more thorough and comprehensive review of suspicious events and thus contribute to the strengthening of the CTBT verification regime. In addition, exchanges between scientists from the three Benelux countries may contribute to joint scientific studies and research.
This cooperation among the national CTBT data centres and scientists from the Benelux countries is the first of its kind. Indeed, Minister Jean Asselborn, in his capacity as Chair of the Benelux Committee of Ministers, has expressed the hope that this partnership will serve as an inspiration for regional cooperation initiatives in other parts of the world.