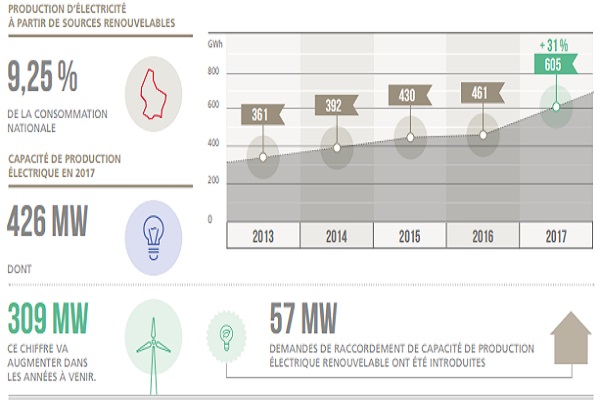 Credit: ILR
A report presented today by the Energy Department of the Luxembourg Institute of Regulation (ILR) has found that electricity generation from renewable sources increased by 31% between 2016 and 2017.
Aimed at the European Commission and the Agency for the Cooperation of Energy Regulators (ACER), the report focused on the evolution of the Luxembourg electricity and natural gas markets in 2017. One finding was that the share of renewable energy in production amounted to 605 GWh last year, which corresponds to 9.25% of national consumption. In addition, grid operators received connection requests for a total of 57 MW of additional electricity generation capacity, bringinh this figure to 426 MW by the end of 2017, including 309 MW of renewable capacity.
The report also revealed that electricity prices charged to households decreased in 2017, while natural gas prices remained stable. Nevertheless, the energy component of the price of natural gas was found to be higher for small and medium-sized enterprises than for other categories of consumers.
2017 was also marked by the introduction of tariff equalisation. The rates of use of the electricity network are now identical, regardless of the geographical location of the consumer. This aims to facilitate the comparison of electricity products throughout the Grand Duchy. Likewise, the ILR clarified the scope of the default supply for a limited time to electricity customers who have not signed a contract with the supplier of their choice.
As for the rate required to change supplier, this remained low in 2017 despite a slight increase in the electricity sector, where the ILR counted 776 changes against 191 changes in the natural gas sector. The ILR also noted in its report that the implementation of the new energy savings bond regime is forcing some foreign suppliers who are active on the Luxembourg market to leave the country. Indeed, a market with fewer players can lead to a loss of competitiveness for the Luxembourg industry, leading to less attractive offers.

Regardless, one last highlight of the year 2017 was the Interconnector BeDeLux, which involves the installation of a phase-shifter transformer, commissioned in October 2017 and in operational test phase for one year, which will create a trade corridor between Belgium, Luxembourg, France and Germany, thanks to better management of electrical energy flows via existing lines.