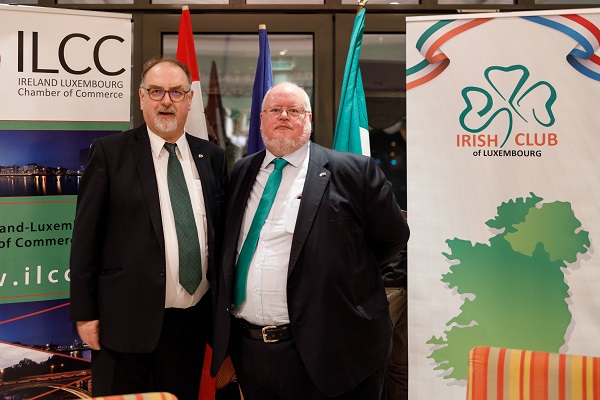 (L-R) ICL President Geoff Thompson; Irish Ambassador Stephen Dawson; Credit: Ali Sahib
Friday 17 March 2023 will mark St Patrick's Day, the national day of Ireland and a cultural and religious celebration that has spread to all corners of the world – including Luxembourg, which is home to over 2,300 Irish nationals.
This year's St Patrick's Day celebrations are already underway in the Grand Duchy, with the Irish Club of Luxembourg (ICL) having held its festive St Patrick's Dinner, in collaboration with the Ireland Luxembourg Chamber of Commerce (ILCC), on Wednesday evening. Among the guests was the Irish Ambassador to Luxembourg, Stephen Dawson, who said a few words on this occasion, particularly emphasising the impact of Ireland's people and culture around the world.
Another St Patrick's event being held in Luxembourg this week (a roundup is available at the bottom of this article) is the Embassy of Ireland's St Patrick's Day reception at the Cercle Cité in Luxembourg-Ville on Friday afternoon. Chronicle.lu sat down with Ambassador Dawson to learn more about the return of this traditional event after a three-year COVID-19-related hiatus, as well as the significance of St Patrick's Day for the Irish Embassy and the people of Ireland (wherever in the world they may be).
Chronicle.lu: The Irish Embassy is holding its traditional St Patrick's Day reception again this year, for the first time since 2019. For how long has the Embassy been preparing this year's event? How much preparation is needed? Is the venue the same as in previous (pre-pandemic) years?
Ambassador Dawson: In some ways we have been preparing it for three years. In 2020, we were fully prepared and ready for the event when the pandemic hit, and only cancelled it the week before (which turned out to be wise, as in fact by 17 March I had come down with the virus myself, so me shaking hands with a few hundred people was exactly what everyone was trying to avoid). In 2021, we knew there wouldn't be a reception, but in 2022, we again thought we should be able to hold it and were involved in organising when we again had to cancel.
Some organisation happens before Christmas and for instance we booked the venue and decided on the time slot a year ago. But really, we start organising in detail in January and invitations go out in mid-February. There is a lot to arrange for a small Embassy and we are still at it now.
We are holding the reception in the Cercle Cité, which we have used for a number of years, and is a helpful venue, easy to work with. We hope the location is convenient for everyone, as this year we are having the reception at lunchtime.
Chonicle.lu: Will you/the Embassy be present at any other St Patrick's Day events this year?
Ambassador Dawson: On 15 March, both myself and Deputy Head of Mission Liz O'Malley, who arrived in Luxembourg last September, attended the St Patrick's Day dinner organised by the Irish Club of Luxembourg. And we will both (that is, the full diplomatic team at the Embassy) be at the St Patrick's Mass on Sunday. On Monday, the Embassy will attend the opening of the Spring session of the British-Irish Film Festival Luxembourg. What else we might get to will depend on our stamina!
Chronicle.lu: How do you personally feel, as Irish Ambassador to Luxembourg, about being able to celebrate Ireland's national day in this way in Luxembourg again? What is the importance of this day for the Irish Embassy and the Irish people, particularly those abroad?
Ambassador Dawson: I'm both relieved and delighted that we are finally getting to hold our national day event again. And when I say again, for me it will be the first time. We have done some things online to mark the day in the last three years, but it's not the same, of course.
For the Embassy, St Patrick's Day is the centrepiece of our engagement with our own community. Irish people are very social and chatty, and they like nothing better than getting together and catching up. This is especially important for those abroad, who spent their lives mostly in a non-Irish milieu. It is a chance to catch up with our own community and with the many friends of Ireland here in Luxembourg. And that applies to me as well. I'm looking forward to it.
St Patrick's Day 2023 events in Luxembourg
Wednesday 15 March: ICL St Patrick's Day Dinner at Hotel Parc Belair in Luxembourg-Merl at 19:00.
Friday 17 March: live music in various Irish pubs, including The Black Stuff in Luxembourg-Pulvemühl, Eirelux in Howald (17 to 19 March), Shamrock Pub (17 and 18 March), Big Beer Company and Rock Box in Rives de Clausen; Irish Embassy St Patrick's Day reception at the Cercle Cité at 12:00 (invitation only); St Patrick's Day event at Casino 2000 in Mondorf-les-Bains fom 19:00.
The water tower in Luxembourg-Gasperich will be lit up in green for the first time on the evening of St Patrick's Day.
Saturday 18 March: Comhaltas Luxembourg's Céilí dance (one for childen at 14:00, another for adults at 20:00) at Centre Culturel Hollerich.
Sunday 19 March: Feast of St Patrick Mass at Église Saint Pie X in Luxembourg-Belair at 11:00.
The British & Irish Film Festival Luxembourg (BIFFL) Spring Festival is also taking place around St Patrick's Day this year, running from 19 to 24 March at Ciné Utopia in Luxembourg-Limpertsberg.