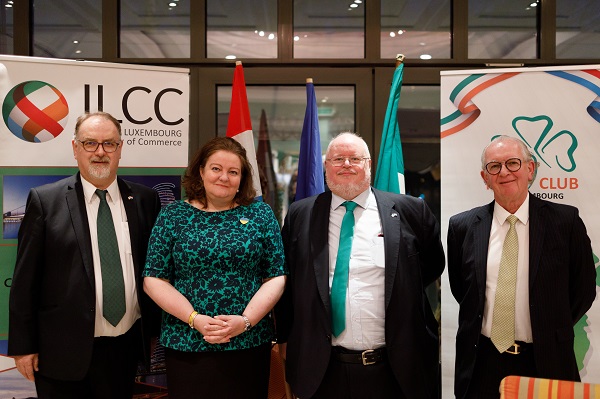 (L-R) ICL President Geoff Thompson; British Ambassador Fleur Thomas; Irish Ambassador Stephen Dawson; ILCC Chairman Joe Huggard; Credit: Ali Sahib
On Wednesday evening, the Irish Club of Luxembourg (ICL) held a festive St Patrick's Dinner, in collaboration with the Ireland Luxembourg Chamber of Commerce (ILCC), at Hotel Parc Belair in Luxembourg-Merl.
The event brought together 100 guests - many of whom wore a splash of green - to launch this year's St Patrick's Day (17 March) celebrations in the Grand Duchy.
Everyone stood up for the national anthems of Ireland and Luxembourg, before ICL President Geoff Thompson introduced the event and welcomed the guests, which included the Irish Ambassador to Luxembourg, Stephen Dawson, and the British Ambassador to Luxembourg, Fleur Thomas. Mr Thompson noted that the ICL had held an event for St Brigid's Day (newly designated a public holiday in Ireland) this year for the first but not the last time and now it was time to celebrate Ireland's national day. "We are delighted to be returning to a semi-formal event which has appealed to the Irish community here," he said.
Looking further ahead, Mr Thompson recalled that the ICL will be celebrating its 40th anniversary in 2025, with celebrations set to culminate in a gala dinner. Whilst the club has been "very active over the past few years", it is "looking for new blood" at its annual general meeting on 11 May 2022. He noted that some of the club's most popular events over the years have been guided tours (another one is scheduled for May this year) and its children's Christmas party, which "survived the pandemic".
Addressing the many expats in the audience, he recalled that non-Luxembourg residents can now vote in the municipal elections, which are taking place this year on 11 June, and urged everyone to register before the deadline on 17 April 2023.
Irish Ambassador Stephen Dawson then took the stage, noting that it was "great to finally get together to celebrate St Patrick's Day in Luxembourg" again after so many COVID-19 cancellations over the past few years. He thanked the ICL for organising the dinner and other events throughout the pandemic (restrictions permitting) and described Irish organisations as the "heart and soul" of the Irish community in Luxembourg. He noted that St Patrick's Day has become an occasion to celebrate what Ireland has given to the world, namely "our people and our culture". He presented some of the initiatives taken by the Government of Ireland to "foster and support" these links abroad, including the Emigrant Support Programme (which supports initiatives such as the British & Irish Film Festival Luxembourg).
Whilst guests enjoyed their five-course meal, they listened attentively as Dr James Gallacher, Irish Studies lecturer at the University of Luxembourg, presented a light-hearted look at some of Irish writer James Joyce's engagements with Saint Patrick. Dr Gallacher felt the setting was fitting, not least following last year's tempoarary exhibition "James Joyce in Luxembourg" at the National Library of Luxembourg (BnL).
The good "craic" (fun) continued with guests socialising over food and drinks and listening to Irish tunes by Luxembourg-based acoustic cover artist Jon Meehan.