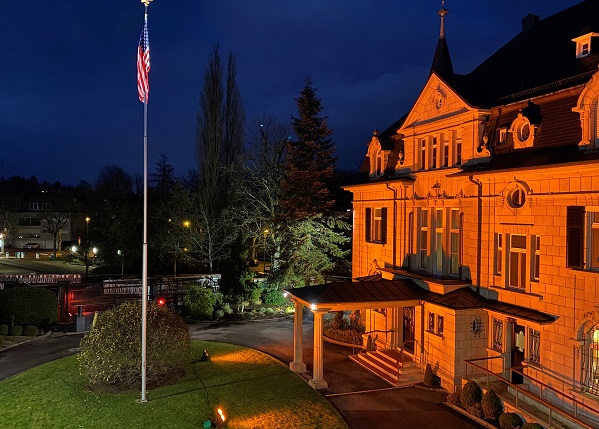 Credit: US Embassy in Luxembourg
The US Embassy in Luxembourg has announced that it is joining in "Orange Week" raising awareness on gender-based violence.
The US Embassy is lighting its Chief of Mission Residence in orange until 10 December 2021 as part of Luxembourg's Orange Week to raise awareness on the global issue of violence against women and girls.
Chargé d'Affaires, a.i. Casey Mace commented: "Preventing and responding to all forms of gender-based violence is a cornerstone of the US government's commitment to promoting democracy, advancing human rights, and furthering gender equality and the empowerment of women and girls, in all their diversity. By lighting the US Ambassador's Residence in orange, we join in solidarity to mark Orange Week and support the public call by the National Women's Council of Luxembourg [...] to help raise awareness on this global issue".
The International Day for the Elimination of Violence against Women has been annually recognised on 25 November since the adoption of United Nations (UN) General Assembly Resolution 54/134 in December 1999. This day marks the official start of the UN's 16 Days of Activism against Gender-Based Violence and ends on Human Rights Day on 10 December. This year marks the 30th anniversary of the 16 Days of Activism campaign. The 2021 campaign is themed "Orange the world: End violence against women now!"
In Luxembourg, Orange Week is led by the National Council of Women of Luxembourg (Conseil National Des Femmes du Luxembourg - CNFL) and runs from 25 November to 10 December 2021 under the slogan #lëtzsaynotoviolence.