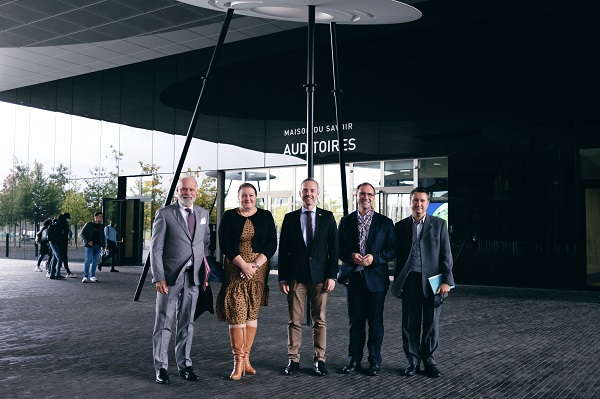 Credit: Emile Hengen / Ville d'Esch
On Tuesday 5 October 2021, the British Embassy in Luxembourg, in partnership with the Embassy of Italy in Luxembourg, travelled to Esch-Sur-Alzette to promote the upcoming United Nations Climate Change Conference (COP26).
The British Embassy set up an information stand about COP26 in Place de l'Hôtel de Ville in Esch-sur-Alzette as part of the city's programme for European Local Democracy Week (ELDW).
On this occasion, British Ambassador Fleur Thomas and Deputy Head of Mission Danial Shaik met with the Mayor of Esch-sur-Alzette, Georges Mischo, and his delegation to talk about COP26, climate change and Esch2022 - European Capital of Culture.
Meanwhile, British Embassy staff engaged with members of the public, informing them on steps they can take to mitigate climate change, organsied a quiz and collected climate pledges.
The COP26 campaign continued at the University of Luxembourg in Esch-Belval in the afternoon. Here, the British Ambassador was joined by Italian Ambassador Diego Brasioli for a roundtable with professors chaired by Dr Jens Kreisel, Vice Rector of the university. The discussion touched on a wide range of topics, including sustainable finance and the challenges of "greening" the food industry.
This was followed by a discussion round with student representatives from various sustainability associations. The students showed an interest in learning more about the United Kingdom's commitments to tackling climate change, such as the phasing out of petrol and diesel cars by 2030 and the country's £11.6 billion annual commitment to international climate finance.