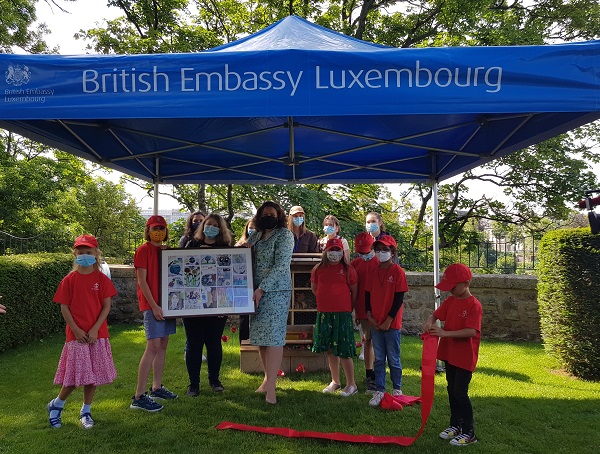 Insect Hotel inauguration; Credit: Jazmin Campbell
On Tuesday 29 June 2021, the British Ambassador to Luxembourg, Fleur Thomas, invited a group of students and staff from St George's International School to the inauguration of the new insect hotel at the Ambassador's Residence gardens.
With the United Kingdom (UK) presidency of the COP26 Climate Change Conference coming up later this year, the British Embassy in Luxembourg has been organising its own COP26 campaign #LetzPledge that encourages civil society and industry stakeholders to make personal pledges for the environment.
St George's Eco committee and the British Embassy share a common goal: to take tangible action for a greener future. With this in mind, they have been working closely together over the past months and were proud to unveil the British Ambassador's very own insect hotel at an intimate inauguration and gift-giving ceremony.
Over the past six weeks, primary school pupils, also known as "Eco Agents", collected materials from their gardens and made nature-inspired crafts in art class for this new insect hotel, which will have pride of place in the British Ambassador's Residence gardens.
On site, secondary students discussed their knowledge of COP26 with Ambassador Fleur Thomas. They presented some of the school's eco-friendly initiatives, such as organising a meat-free day in the canteen and the potential use of electric buses in the near future. The British Embassy has taken similar measures by reducing the use of plastic and limiting the amount of meat used in meals. The Ambassador added that she had made the personal choice to walk or cycle where possible.
In response to students' questions about what can be done to further reduce carbon emissions, Ambassador Fleur Thomas reiterated the need to "think globally but act locally". She noted that it is the little things, not only big policy changes, that count.
Another group of younger students performed an in-depth biodiversity audit, also known as "BioBlitz 2021", an initiative co-created by an alumnus of St George's studying at the Royal Holloway University of London. The BioBlitz helped students to identity a variety of species that live on the Ambassador's grounds using the app Seek by iNaturalist.
Fellow Eco Agents assembled the insect hotel, which the British Ambassador then inaugurated during a ribbon cutting ceremony.
St George's is a member of Eco-Schools #STG_EcoSchool, a global network aimed at empowering students, raising environmental awareness and improving the school environment while engaging the wider local community and linking to the school curriculum.