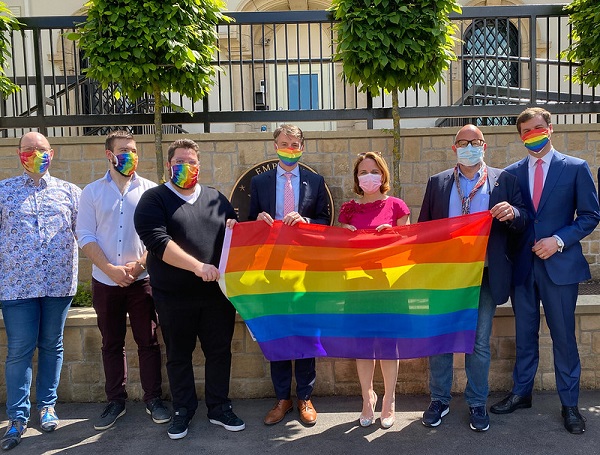 Credit: US Embassy in Luxembourg
The United States (US) Embassy in Luxembourg kicked off Pride Month with a rainbow flag raising ceremony on Friday.
Casey Mace, Chargé d'Affaires at the US Embassy in Luxembourg, and Corinne Cahen, Luxembourg's Minister for Family Affairs and Integration, raised the pride flag on this occasion.
Casey Mace stated: "On 4 February 2021, President Biden signed the Memorandum on Advancing the Human Rights of Lesbian, Gay, Bisexual, Transgender, Queer, and Intersex Persons around the World. This foreign policy memo calls on embassies and agencies to 'lead by the power or our example'. In this spirit, we are looking forward to working with like-minded countries like Luxembourg to combat violence and discrimination against LGBTQI+ people".
He added: "LGBTQI+ rights are human rights, and a society that respects the rights of all its citizens is a society that respects human rights. By raising this flag today, we show our support to LGBTQI+ people and rights around the world. Our actions demonstrate the United States and its allies, such as Luxembourg, stand united in the defence of every person's right to live in freedom, dignity and security, no matter their sexuality, sexual orientation, or gender identity".
Other speakers and attendees included: Tom Hecker, President of Pink Luxembourg; Marc Angel, Luxembourg MEP who co-chairs the European Parliament Intergroup on LGBT Rights; Alexander Grodensky, LGBT rabbi of Esch-sur-Alzette; Nicolas Van Elsué, representative from Pride Luxembourg.