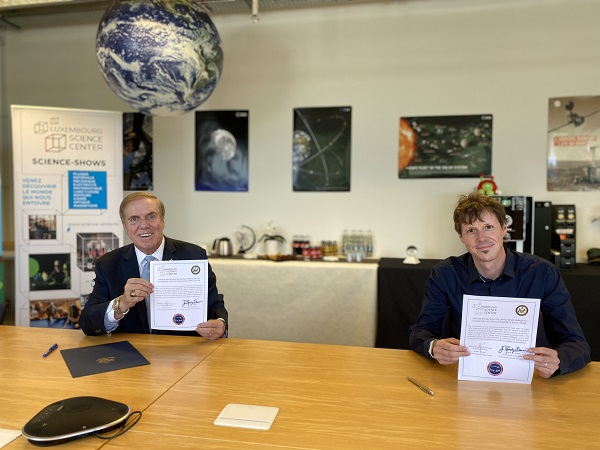 Credit: US Embassy Luxembourg
The United States Embassy Luxembourg has awarded a €10,000 grant to the Luxembourg Space Center in Differdange for a new interactive hydrogen rocket exhibit.
On Thursday 27 August 2020, US Ambassador to Luxembourg, J. Randolph Evans, signed and presented the documents for the award of a $10,000 grant from the US Embassy to the Luxembourg Science Center.
Ambassador J. Randolph Evans announced the award during a tour of the centre with Science Director Guillaume Trap, who showcased several interactive experiences with their exhibits and demonstrations. The new hydrogen rocket exhibit will demonstrate the basic science behind the chemical reactions and physical laws that govern spaceflight.
The Luxembourg Science Center plans to start construction on the exhibit in January 2021 with the hopes of opening to the public next April.
Ambassador J. Randolph Evans commented: "The Luxembourg Science Center does an incredible job capturing the imaginations of students of all ages - including me - and making science accessible and enjoyable. The Embassy is honoured to partner with them on this new interactive and understandable exhibit that will demonstrate the highly complex, but incredibly exciting scientific concepts that make spaceflight possible, putting the power into the hands of young minds and launching the dreams of future generations of scientists and engineers right here in Luxembourg". He added: "This grant is yet another example of the strong bond between the United States and Luxembourg to build our futures together through education, particularly in the fields of science and space".
Nicolas Didier, President and General Manager of the Luxembourg Science Center, added: "We are honoured by this grant from the US Embassy which allows us to extend our collection of diverse engines. Hydrogen is one of the most promising fuel sources of the future, a technology also used in the most recent NASA Space Launch System. The proposed "Hydrogen Rocket" station, co-financed by the US Embassy, will play a major role in our Exploration, Science Shows, as well as a number of Workshops. I have no doubt that our visitors will enjoy and learn from the new addition!"