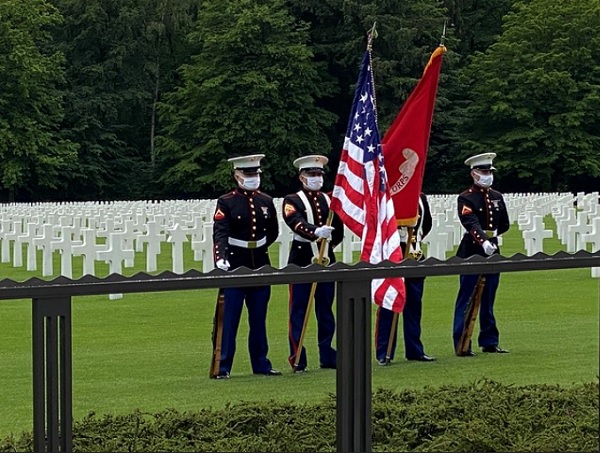 Memorial Day Ceremony 2020; Credit: US Embassy Luxembourg
On Saturday 23 May 2020, the United States Ambassador to the Grand Duchy of Luxembourg, J. Randolph Evans, hosted the Embassy's commemorative ceremony of Memorial Day 2020 at the Luxembourg American Military Cemetery in Hamm.
Memorial Day is a United States Federal Holiday commemorating the men and women who died while in the military service of their country, particularly those who died in combat and on battlefields during armed conflicts around the world.
People from Luxembourg, the U.S., and around the world joined the LIVE video streamed ceremony, honouring the service members who made the ultimate sacrifice in the name of freedom.
The Government of Luxembourg and the Chamber of Deputies honoured the occasion with wreaths laid during the ceremony. The US Embassy stated "On behalf of the American people, we are grateful for their kind sentiment and respect on this momentous occasion."
According to the current COVID-19 social distancing restrictions for public gatherings, no visitors were allowed to attend this year's commemoration.
US Ambassador Evans said in his opening remarks "I am proud to serve as the U.S. Ambassador to Luxembourg every day, but particularly on days like today, that mark such important events to honor our military and commemorate those who gave their lives to secure the freedom of the United States, Luxembourg, and the world. Most of these graves behind me belong to young people, service members who had their whole lives ahead of them. Today we pause not just to honour all of them here, as well as all those resting in peace all over the world."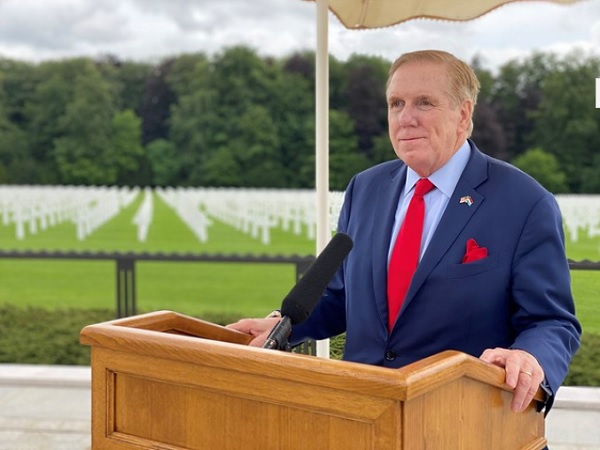 A special tribute was made this year to the one woman (a nurse) buried at the Luxembourg-American Cemetery – Lieutenant Nancy Leo - by Cecile Jimenez, the medical provider charged with the health and safety of the Embassy of the United States in Luxembourg and Brussels.
In her speech, Ms. Jimenez said "Nurses and doctors have always played an important role in the world and this includes the world at war, against known enemies and invisible viruses. It is notable that prior to World War II conflict more combatants died from illness and disease than wounds sustained in battle. Medical professionals give themselves and sacrifice so much to do their jobs, risking their own health to help those in need. Whether we enlist and serve in our Armed Forces during war and at peace, or work tirelessly today and self-isolate from our families each day after work to keep them safe, we do these jobs because we are passionate about the work and we care deeply about our patients. Above all, we want to help others and keep the world safe."