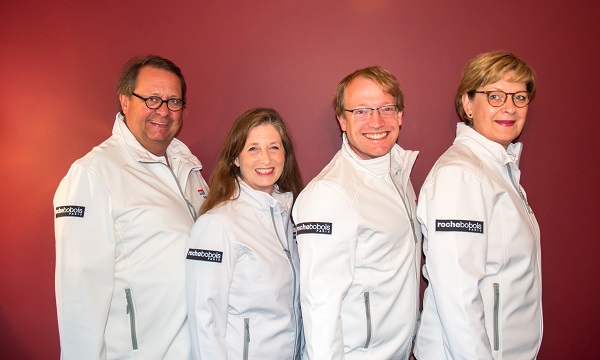 2nd from left: Karen Wauters as part of the mixed Curling Luxembourg team; Credit: Curling Luxembourg
The Brussels-based Embassy of Canada to Belgium and Luxembourg announced today the nomination of Karen Wauters as Honorary Consul of Canada in the Grand Duchy of Luxembourg.
In her new role, Karen Wauters will support the work of the Canadian Embassy in further developing relations between the two countries and in raising the awareness of Canada and its diversity, which offers many possible experiences for Luxembourg's young people, as well as of its feminist foreign policy.
The Embassy stated that this nomination comes as Canada remains focused on boosting its trade relationships for a shared and inclusive prosperity, including by encouraging companies in Luxembourg and Canada to make use of the benefits offered by the Comprehensive Economic and Trade Agreement (CETA) with the European Union (EU).
This nomination also takes place at a time when the new bilateral reciprocal mobility agreement opens new channels of exchange to young people in both countries, thus offering them a chance to broaden their perspectives, immerse themselves in a different culture and gain work experience.
As a resident of the City of Luxembourg for more than 30 years, Karen Wauters brings a rich experience to her role as Honorary Consul of Canada to Luxembourg. At Ernst & Young (EY) Europe, she worked in the fields of finance, change and talent management. She is currently a member of the Institut luxembourgeois des Administrateurs, the Luxembourg Female Board Pool, the International Directors Program Network and represents Luxembourg on the Board of the Chamber of Commerce Canada-Belgium-Luxembourg.
A recognised and active member of the Canadian community in Luxembourg, Karen Wauters has also forged ties within the Luxembourg community as demonstrated by her role in civil society for the advancement of gender equality and her leadership of Curling Luxembourg.
Karen Wauters succeeds Marie-Claire Goller, who has occupied this function since 2002.
Commenting on this appointment, Ambassador Olivier Nicoloff stated: "I am very glad to welcome our new Honorary Consul to our team. She is assuming this position at a pivotal moment in the Canada-Luxembourg relationship: this relationship has been significantly boosted lately by the signing of the youth mobility agreement, the audiovisual co-production agreement, and also by the implementation of the Comprehensive Economic and Commercial Agreement (CETA) between Canada and the European Union".