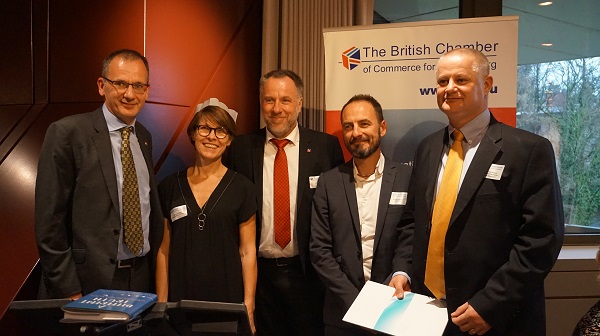 John Marshall, British Ambassador to Luxembourg, Rebecca Kellagher, Manager at the BCC, and Daniel Eischen, BCC Chairman, pictured with Tombola winners; Credit: Jazmin Campbell
On Friday 13 December 2019, the British Chamber of Commerce (BCC) for Luxembourg held its annual Christmas luncheon at the Hemicycle in Luxembourg-Kirchberg.
BCC Chairman Daniel Eischen welcomed the some 200 members and guests, including the Ambassador of the United Kingdom, John Marshall, and the various sponsors involved in the seasonal event. He stressed that today was an important date for three main reasons: firstly, because of the Christmas lunch; secondly, since it was the day after the UK general election (the date of which, he added, was chosen after the BCC's decision to hold its lunch today); and thirdly, because it marked the first time that he attended this annual event as chairman, a role which he assumed earlier this year.
Daniel Eischen then presented an overview of the past year from the BCC's point of view. He highlighted the chamber's efforts to "innovate, be relevant and find answers to the questions being asked". He recalled that the BCC is about tradition but also thinking about where to go in the future, for instance going beyond its role as a nettworking platform and representing the voice of its members. He then thanked everyone involved in these efforts, including the British Embassy and sponsors such as KPMG, who once again provided the ever-popular gin bar, media partner Delano for sponsoring the photo booth, and long-term partners Luxair for offering airline ticket prizes for the Tombola. He also discussed the BCC's newest partnerships, namely those with the University of Luxembourg, Miami Universit, STEP and other business chambers in Luxembourg, in addition to its investment in a new website and increased presence on social media. He then congratulated the former manager of the BCC, Sophie Kerschen, both for her hard work as "the face and soul" of the Chamber for many years and on being awarded an MBE this year. He thanked Rebecca Kellagher for taking over this role, before concluding that "there is life after Brexit".
Following the three-course Christmas meal, the British Ambassador to Luxembourg, John Marshall, addressed guests for the fourth consecutive year. In his speech, he began by referring to his previous addresses, which focussed on a sense of identity faced with rising nationalism, the #LUXUKLINKS exhibition and book and the role of an embassy, respectively; he added that each year's address had also touched on Brexit, and that this year would be no different.
Nevertheless, promising to keep his remarks on Brexit and the yesterday's elections short, Ambassador John Marshall briefly stated that the 2019 general election marked the first time since 2005 that a single party was in charge of the UK government. He added that this translated to "a strong position to deliver their legislative priorities" and potentially "a less turbulent" political phase for the UK. The Ambassador cited ratification of the withdrawal agreement by both the UK and the EU as the next steps, with the country more than likely leaving the EU on 31 January 2020 as planned, and the subsequent need to work on future UK-EU relations in the busy year(s) ahead.
Ambassador John Marshall then turned to the main focus of his address, which was an explanation of the role of an ambassador. He explained that this seemed like a relevant topic in light of recent political events; whilst the results of yesterday's election means he continues to serve a Conservative government, a different result could have meant waking up to serving a government with very different policy views. In this regard, the British Ambassador clarified that an ambassador is above all "a traditional British public servant" and as such, must remain impartial and serve the elected government regardless of his/her personal beliefs. He added that ambassadors, as mid-ranking civil servants, cannot engage in national or local politics (without permission). They are entitled to vote and to have their own opinions but must keep these private.
Nevertheless, Ambassador John Marshall stressed his belief that the UK civil service "deserves praise in times of political turbulence", not least because, whilst governments may change and there may be "a little political turbulence", the civil service ensures a sense of continuity in terms of personnel, talent, expertise and values (such as impartiality). In this regard, an ambassador acts in a way that "any elected government has confidence in them to deliver their policies". And this, he maintained, should be a celebrated and protected part of the UK system.
The British Ambassador concluded with an anecdote about buying presents for civil servants, which included a colourful tie that ensures political neutrality on any occasion. He quipped that he was "impartial even in [his] choice of neckwear". He then wished everyone present, and their families, a "Merry Christmas and a healthy, wholesome and happy 2020".
The Ambassador's speech was followed by the Tombola raffle draw, which saw two guests win Luxair flights. Guests then returned to their meals, before heading to the gin bar.