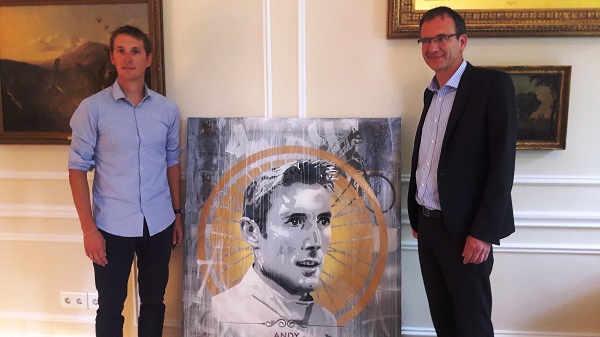 To celebrate that the Tour de France will be returning to Luxembourg in 2017, British artist James Straffon has produced a series of original canvasses and street-art telling the history of the Tour through some of its cycling legends.
Featured in his work are four of Luxembourg's cycling heroes – François Faber, Nicolas Frantz, Charly Gaul and Andy Schleck – as well as cycling legends from Britain, France, Spain, Italy, Belgium and the Netherlands.
Ambassador John Marshall hosted a Vernissage of 12 original canvasses that make up the exhibition "When the Fox Met the Rooster". The Fox in question is the Renert of Michel Rodange who learns about the Tour through his encounters with some of the Tour's legendary figures.
The Ambassador thanked the main sponsor Banque Havilland as well as Linklatersfor their support on the project.
James Straffon has also produced street art based on these canvasses. On 11 May, street art portraits of Luxembourg cycling legend Charly Gaul and Tom Simpson, the first British rider to make his mark on the Tour de France, were unveiled by Catherine, Duchess of Cambridge, during her visit to Luxembourg. Since mid-June, James Straffon's street art portraits have been on display in many of the 20 Luxembourg municipalities through which the Tour will pass on 3 and 4 July. From 26 June to the end of August, stencilled versions of the artworks are on display in Place Guillaume II.
In addition, several portraits can currently be seen in locations around Luxembourg's old city and in Clausen.
Photo (L-R): Andy Schleck; Ambassador John Marshall