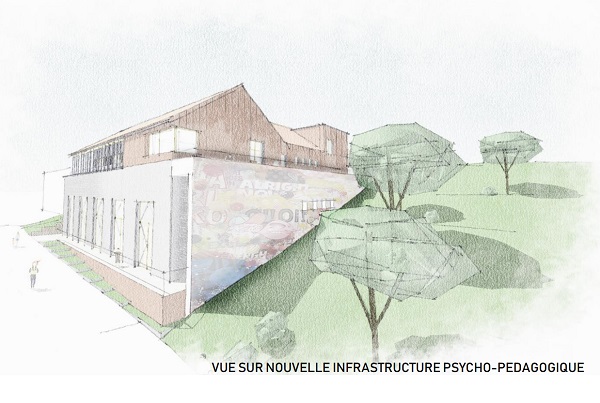 Plans for Päerd's Atelier's psycho-pedagogical infrastructure in Merscheid; Credit: MENEJ
On Friday 2 December 2022, on the proposal of the Ministry of Education, Children and Youth, Luxembourg's Government Council (Cabinet) approved three agreements concerning the country's child and family assistance offer.
These agreements will ensure the financial participation of the State in the transformation, renovation, implementation compliance and acquisition of equipment for infrastructure in the child and family assistance sector.
The three agreements relate to: a Red Cross reception centre in Bergem, for children aged four to eighteen years; Red Cross day and night centres in Kautenbach, which can accommodate eight schoolchildren aged four to eighteen and a socio-therapeutic centre offering day care to six children aged six to thirteen years; a new psycho-pedagogical infrastructure for the non-profit organisation "Päerd's Atelier" in Merscheid on the "Liewenshaff" site, with 30 psycho-pedagogical support places for young people who are at risk or in a situation of dropping out of school and who have behavioural problems.
For the Red Cross reception centre in Bergem, essential works will be carried out in a house dating from 1900 to ensure it meets the needs of future residents and meets the compliance requirements. The Education Ministry is encouraging the modernisation and development of small reception structures with a view to offering quality supervision and assistance to children and young people. It is expected that these small reception centres include 40 places in 2023.
In Kautenbach, a farm will be renovated according to safety and cultural heritage standards, keeping its historic character with an enhancement of the entrance and the interior courtyard. The project makes it possible to broaden the offer of reception centres, but also of day care in socio-therapeutic centres. These centres were created in 2017 to provide children with socio-emotional development disorders with individual and intensive educational support by pedagogues, therapists and teachers. There are currently seven socio-therapeutic centres in Luxembourg.
In Merscheid, the aim is to continue the development of the existing socio-professional integration centre. According to the Education Ministry, these centres are an important element in the fight against school dropout. The "Liewenshaff" extension project is part of the government's dual desire to promote collaboration between organisations working in the social, family and therapeutic fields and the education sector and to offer certification routes for skills acquired by young people who are unable to complete a regular training course.