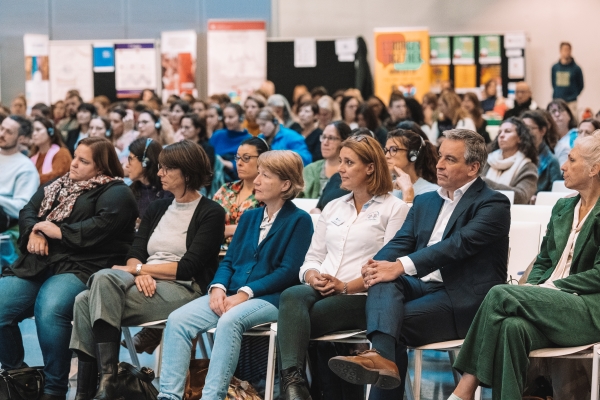 Credit: standart / SNJ
On Thursday 17 November 2022, the National Youth Service (Service national de la jeunesse - SNJ) in collaboration with the Directorate General "Children" of the Ministry of Education, Children and Youth, organised the 11th national conference on non-formal education of children at Forum Geesseknäppchen.
This edition allowed more than 300 non-formal education professionals to learn and discuss the theme of socio-emotional skills in children.
In his speech, Luxembourg's Minister of Education, Children and Youth, Claude Meisch, said: "Strong children are children who know their emotions and who know how to manage them. They are children who from an early age live the values ​​of respect, tolerance and solidarity and who are able to create links with others. Promoting the development of socio-emotional skills comes down to strengthening the quality of living together and well-being."
Participants were able to follow various presentations illustrating the theme of this conference: "Growing together makes you stronger":
Jrène Rahm, a professor from the University of Montreal, focused on how emotions shape children's learning and development.
Simone Pfeffer, professor at the Technische Hochschule in Nuremberg, approached the theme more generally by explaining the role of socio-emotional skills in the educational path.
The Schoulkaus relay houses in Wilwerwiltz and Sauerschlass in Erpeldange presented practical examples on the management of emotions. The community, through interpersonal relationships, is a playground for expressing and managing one's own emotions, but also being confronted with the expression of the emotions of other children.
The nursery Les p'tits Bouchons in Leudelange presented its approach to caring communication and emotional education.
In its presentation, the Maison Relais de Contern focused on group experiences that develop social skills such as cooperation and empathy.
The Marienthal team of the National Youth Service and the Kayl-Tétange education and reception service presented the "S-TEAM" project, a violence prevention project in high schools, basic schools and relay houses which encourages young people to carry out their own prevention actions and activities.
On the sidelines of the conference, fourteen different stands also enabled participants to obtain information through brochures and didactic material related to the theme of the conference.