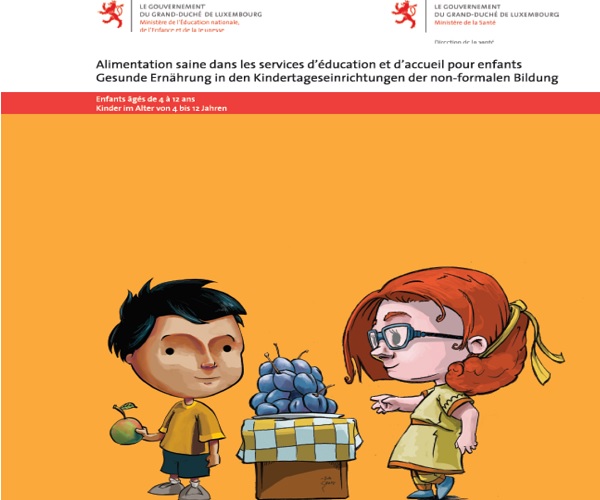 Various Luxembourg ministries have joined forces to publish a guide aimed at promoting healthy eating among children in education and childcare services.
The new guide "Healthy eating in education and care services for children aged 4 to 12 years", available in French and German, encourages children from a young age to eat a balanced diet, consume more fresh fruits and vegetables and fewer salty and sugary dishes and discover new tastes. With more and more children eating in education and childcare services, the guide specifically targets these institutions which play an important role in promoting the health of young people.
In line with the National Reference Framework on Non-formal Education for Children and Young People, which advocates, among other things, learning about a balanced diet, this guide targets professionals working with children aged 4 to 12 years. The guide thus provides educational and cooking staff, service providers and managers with a baseline in terms of education and the daily preparation of a healthy and balanced diet, adapted to the specific needs of the children of this age group.
A balanced diet and regular physical activity are part of a healthy lifestyle. The latter allows the child optimal growth and development. In fact, the healthy habits acquired during childhood remain until adulthood and have a positive effect throughout life. A healthy lifestyle also reduces the risk of certain diseases, such as cardiovascular diseases and some cancers.
The guides can be consulted and downloaded from the following websites: http://sante.public.lu/en/news/2019/05/food-seat-creches/index.html; http://www.men.public.lu/fr/actualites/publications/enfance/infos-generales/171205-gesond-iessen/index.html. They can also be ordered from the Ministry of Health in paper version via e-mail: gimb@ms.etat.lu.