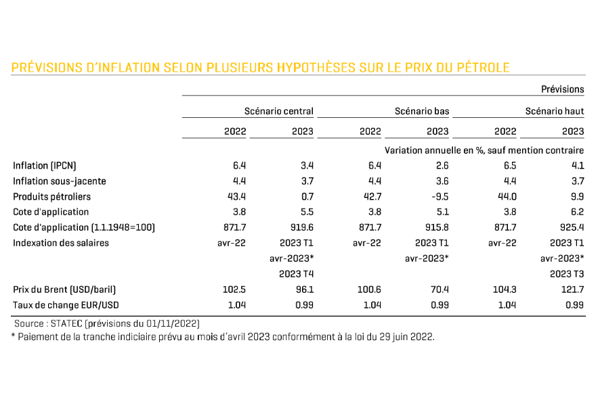 Credit: STATEC
On Monday 7 November 2022, Luxembourg's statistics institute, STATEC, announced the inflation forecasts for 2022 and 2023.
According to STATEC, the delayed impact of the surge in energy prices on all other prices, particularly food prices, is exerting strong upward pressure on imported inflation in Luxembourg. This effect is amplified by the depreciation of the euro, which is expected to be more lasting than previously anticipated.
In Luxembourg, the tripartite measures have removed some of the uncertainty regarding energy prices by limiting increases in gas and electricity prices. At more than 4%, underlying inflation will reach historically high levels in 2022 and should continue to be strong in 2023 despite the moderating impact of the VAT cut on 1 January 2023.
Incorporating the impact of the tripartite measures, STATEC has thus revised its inflation forecasts downwards compared with those of the beginning of September. Compared to the forecasts drawn up at the end of the new tripartite agreement, this is nevertheless an upward revision due to the recent surge in fuel and heating oil prices, which rose unexpectedly in October, and a supposedly more persistent depreciation of the euro against the dollar.
The forecasts still anticipate the payment of an index-linked tranche (wage indexation) in the first quarter of 2023, the one postponed to April 2023, and now also an additional tranche in 2023 in two of the three scenarios developed.
The national consumer price index (NICP), calculated by STATEC, showed a monthly increase of 0.9% in October 2022. This trend is explained by the pronounced rise in the price of petroleum products, which rose by 8.8% in one month, combined with the continued increase in the price of food products.