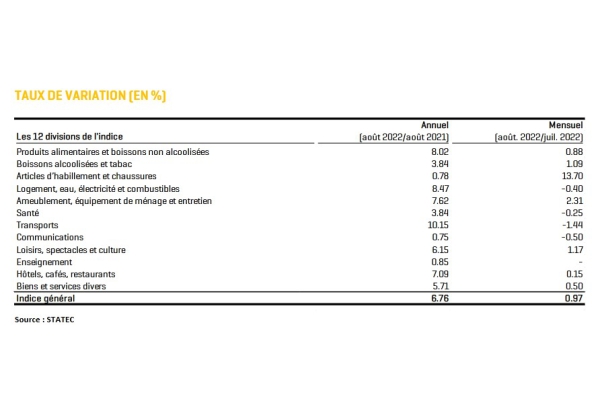 Credit: STATEC
According to Luxembourg's statistical institute, STATEC, the annual rate of inflation in the Grand Duchy remains stable at 6.8% over one month.
In August 2022, the national consumer price index, calculated by STATEC, posted a monthly increase of 1.0%, mainly due to the end of the summer sales. By neutralising the variations due to sales and excluding petroleum products, the prices of other goods and services increased by 0.4%. At the same time, the prices of petroleum derivatives fell by 5.5%.
The return of products on sale during the month of July to their normal price level explains the strong monthly increase of 13.7% in the "Clothing and footwear" division. Compared to August 2021, clothing prices rose by 2.2%, while those of shoes fell by 4.2%. Other categories also impacted by the end of the sales are furniture (up 6.6%), jewelery and watches (up 6.3%) and textile household articles (up 5.3%).
For the second consecutive month, the prices of petroleum products are trending downwards. At the filling station, the price of diesel is down 6.1% and that of petrol by 8.6%. One full tank of fuel costs 9.2% less in August than in July 2022. Despite this monthly decline in the petroleum products index, the prices of petroleum derivatives in the basket are 36.0% higher than in August 2021.
The declines in petroleum products are largely offseted by price increases in certain other goods and services. Thus, with the peak of the summer season, package travel prices increased by 7.3%, passenger air transport increased by 21.4% in one month. As far as other goods are concerned, a price increase by 0.3% for new cars were also witnessed compared to the previous month on certain models following the introduction of new price lists.
Food prices remain on the rise and increase by 0.9% in monthly comparison. Cheese (up 2.3%), meat (up 0.6%), fresh fruit (up 2.7%) and fats and oils (up 2.9%) weighed the most on this trend. Price increases with a visible impact on the general index were also noted for beers (up 3.1%). On the other hand, prices of fresh vegetables declined 1.8%, however the prices still remaining 2.8% higher compared to August 2021. In annual comparison, food prices are 8.3% higher and those of alcoholic beverages were up 3.8%.
The underlying annual inflation rate gained 0.4% and stood at 5.1% in August. The general index for the month of August expressed in base 100 in 2015 amounts to 116.70 points. The half-yearly average of the index connected to the 1.1.1948 base rose from 950.31 to 954.51 points. The next indexation will be triggered when the value of 964.64 is reached.