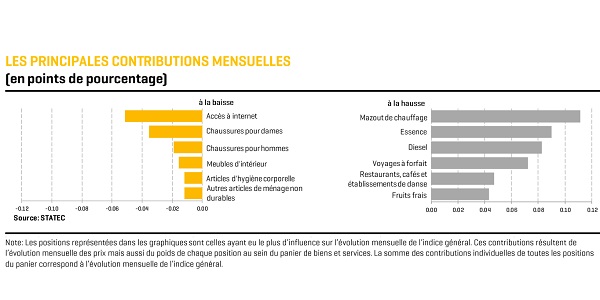 Credit: STATEC
After four months of decline, the annual rate of inflation in Luxembourg has risen to 0.7% over the past month.
In June 2020, the national consumer price index, calculated by STATEC, increased by 0.5% (from 0.2% to 0.7%) compared to the previous month. This increase has been mainly attributed to a rebound in petroleum product prices and, to a lesser extent, the rise in food product prices.
More specifically, June saw the price of petroleum products go up 7.0% overall compared to the previous month. The main contributor to this increase was heating oil prices which rose by 19.6% over one month. Petrol prices (per litre) increased by 9.2%, whilst diesel prices (per litre) went up 8.2% compared to May.
Food prices also rose slightly, by 0.4% month-on-month. In particular, the price of fresh fruit (up 4.8%) and fish and seafood (up 2.1%) influenced this overall increase. On the other hand, the price of oils (down 1.0%) and non-alcoholic beverages (down 0.9%) witnessed the greatest decreases over the last month. In comparison to last year, food prices were up 3.7%.
Similarly, service prices went up 0.4% compared to the previous month. The greatest increases were found among catering services (up 2.1%) and hairdressers and beauty salons (up 2.0%). Internet access prices dropped 7.7%.
All things considered, the annual rate of inflation now stands at 0.7%. The general index for the month of June expressed in base 100 in 2015 amounted to 106.34 points.