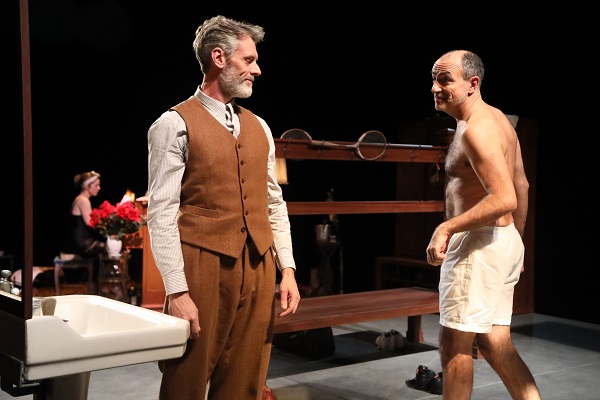 Funeral Blues – The Missing Cabaret; Credit: © Bohumil Kostohryz
As part of their programme for the 2017-18 season, the Grand Theatre in Luxembourg is putting on a production of Funeral Blues – The Missing Cabaret (musical theatre), by W.H. Auden (poetry) and Benjamin Britten (music & songs), from Thursday 18 January (20:00), Sunday 21 January (17:00) and Wednesday 24 January 2018 (20:00).
As musical accompainement, Internationally acclaimed Luxembourg pianist Cathy Krier will perform alongside established bass-baritone Laurent Naouri.
W.H. Auden, one of the most important poets of the twentieth century, and the composer Benjamin Britten, collaborated intensely between 1932 and 1936. Even when their paths diverged, the collaborations continued. In Funeral Blues, director Olivier Fredj rediscovers the poetry of W. H. Auden, making the music of Britten an intrinsic element of the performance, while embracing the task of approaching the poetry from a theatrical perspective. "The joy of living and loving in a world in distress" is Auden's paradox, imbued with the humour and derision necessary to give his clinical approach to life just the right amount of tenderness. Fredj stages and embodies Auden's poetry; there is also a sense of something unsaid. The audience is given a chance to discover the inner workings of the author's mind by hearing his words as they are made emotional by the playfulness of cabaret songs.
The aim is to delve into the work of Auden, from the most universal to the most intimate, and to reveal Britten's mischievous side. The character who is the source of inspiration is a pianist inspired by Gypsy Rose Lee, a burlesque dancer who lived in New York with W. H. Auden and Benjamin Britten. The audience observes her as she prepares herself for her show. She is in a dressing or a locker room, a feminine space that evokes a strange sense of loneliness. She is amusing, light-hearted, extravagant and fidgety. She laughs, writes, plays the piano, dances and dreams, passionately embracing a love that never existed.
In English. 85 min (no intermission), with introduction to the play by Olivier Fredj half an hour before each performance (in French).
Tickets cost €20 (U26s €8) from www.lestheatres.lu / www.luxembourg-ticket.lu