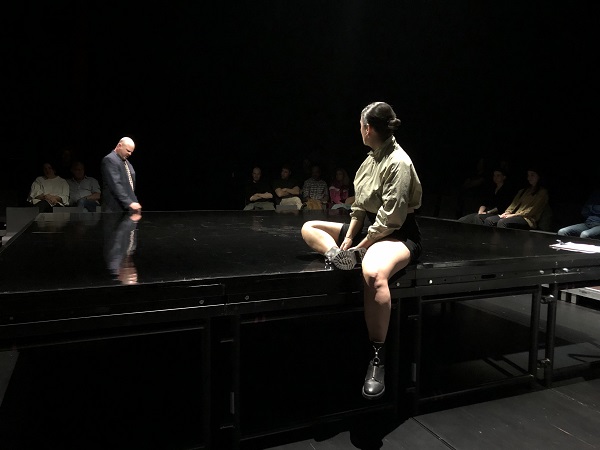 Credit: Otilia Dragan/Chronicle.lu
Chronicle.lu sat in on the premiere of The Censor, a play by Anthony Neilson, directed by Anne Simon and taking place at the Kinneksbond cultural centre in Mamer on Saturday evening.
The play is a provocative exploration of sexuality as a language and means of expression. A female pornographer approaches the man responsible for approving films for general public release. She tries to convince him that sex is more than meets the eye, that a porn film can be a love story if you know where to look. The power dynamics between them is established early on, and she claims that she is doing more than just trying to make a pornographic film public: she is fighting the established structure that represses sexuality and perpetuates shame.
"Shame is a waste of time," she quips. However, as she fights against restraints in a general sense, the fight becomes deeply personal and takes a deep-dive into the censor's psyche. Part armchair psychologist, part daring and sexually liberated adult film creator with a vision, the female character repeatedly crosses the censor's boundaries which leads to an exploration of his most vulnerable self and beliefs.
At the core of the play, the actors co-create a shift between the cerebral and the physical realms. A certain stern, clinical outlook on sex makes way for a deeper understanding of sexuality as a potential "language of expression."
Interestingly, as she argues for the future of sex as a language for all, the development of a story and intimacy from sexual acts still requires many words and understanding, reading cues of an individual's body and personal relationship to certain sexual acts and preferences. This paradox makes the argument for sex as a lingua franca difficult, but it does give her an excuse to delve into the censor's personal relationship with sexuality.
The actors, Magaly Teixeira and Max Thommes, portray a deeply uncomfortable, yet vulnerable and believable dynamic through their fast-developing on-stage relationship. Their chemistry and the intensity of the delivery made the audience gasp and laugh, and it sometimes shocked them into stunned silence.
Additional performances of the play will take place on Tuesday 23 and Wednesday 24 May 2023 at the Kinneksbond in Mamer at 20:00.

Tickets can be ordered online at www.luxembourg-ticket.lu (€22.50 for adults and €8 for students). The play is for viewers over the age of sixteen.