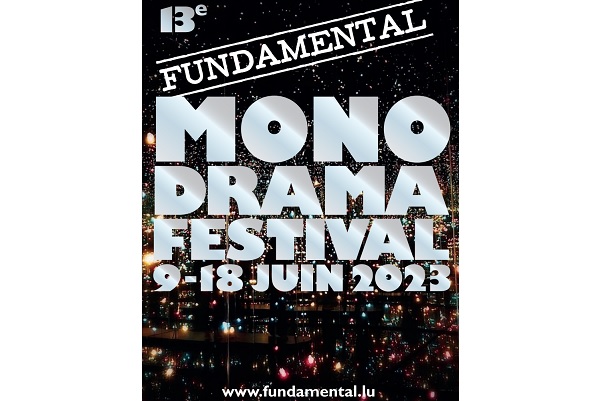 The thirteenth edition of Fundamental Monodrama Festival will take place at Banannefabrik in Luxembourg-Bonnevoie from Friday 9 to Sunday 18 June 2023.
This ten-day contemporary solo performance art festival features sixteen shows and one orchestra from eight countries.
The programme includes four fully English-language shows and one bilingual (French and English) performance:
- Cosmos (not enough) (Monolabo), a Luxembourgish creation by and starring Sascha Ley, scheduled for Sunday 11 June 2023 at 19:00. Based on a project of lyrical prose, word collages and illustrations, created in 2021. Sascha Ley has since developed the hybrid text form of her creation as an interdisciplinary performance combining storytelling, images, sounds, music and movement;
- Confession Publique (French and English; Canada) by Mélanie Demers and starring Angélique Willkie, with the participation of Anne-Marie Jourdenais, taking place on Tuesday 13 June 2023 at 20:00. An autobiographical solo that never saw the light of day- until now;
- At Home with Francis Bacon (UK) by Jeremy Towler and Pip Utton, and starring Pip Utton, scheduled for Wednesday 14 June 2023 at 20:00. A show about the controversial Irish-born British figurative painter Francis Bacon (1909-1992);
- The Madness of... Andrew Watts (UK) by and starring Andrew Watts, taking place on Thursday 15 June 2023 at 20:00. In this specially curated programme, alongside pianist Gavin Roberts, British countertenor Andrew Watts invites the audience into the many worlds of the characters he has made and inhabited;
- Down the Rabbit Hole (Belgium) by Benjamin Verdonck and Lucas Van Haesbroeck, and starring Benjamin Verdonck, taking place on Friday 16 June 2023 at 20:00. A new installation from Belgian visual artist Benjamin Verdonck with live music from Mauro Pawlowski- expect dancing ropes, burning strings and popping colours.
Several other French- and German-language productions are on the agenda, as well as three dance performances and an orchestra (So long Orchestra will play every evening). The following countries are represented at this edition: Luxembourg, the United Kingdom, Switzerland, Germany, Belgium, Canada, Cameroon and Niger.
Tickets cost €20 per evening (€8 reduced) or €1.50 per evening with a Kulturpass. To reserve tickets, visit https://fundamental.lu/fr, send an email to reservation@fundamental.lu or tel.: 621-237859.