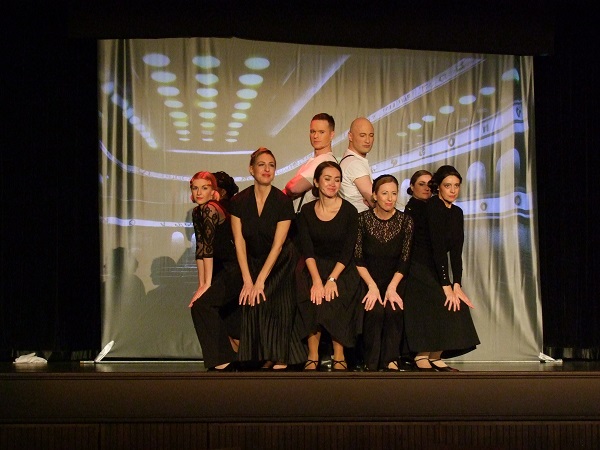 Credit: Chronicle.lu
On Wednesday 23 November 2022, Chronicle.lu sat in on the dress rehearsal of Pirate Productions' latest show "Too Darn Hot", a show based around the life and music of American composer Cole Porter who wrote time-honoured songs such as "Night & Day", "I've Got You Under My Skin" and "Who Wants to be a Millionaire".
The script is original, written by Neil Johnson, who also directed the production which explores themes of friendship, fidelity and sexuality by 20 actors on stage accompanied by a small orchestra under the direction of Philip Dutton.
With the clever use of projections onto a back-screen of not only dates and settings but also scenery, as well as classic costumes of the era, the audience is transported back to the early 20th century America for the journey on which they are being taken. The repertoire of songs and their melodies will be well-known to many and are interspersed by short dialogue to aid with the story-telling. All for the benefit of the audience and the journey on which they are being brought, exploring his career and personal life in parallel. It starts slowly but, like a certain football tournament on at present, the tempo increases as the stakes rise.
With live music provided by the five-piece orchestra, with the saxophone adding to the sounds of keyboards, percussion and bass, it feels that one is sitting, enjoying a show on Broadway, and way back in the time. Then the location shifts to Paris in 1920 where red-headed Ciara Barker as Dorothy Parker and Lise Gyssels as Ginger Rogers showcase their wonderful vocal ranges, as does Tara Klasses as the bar owner, and Marcelle Fankam as Josephine Baker shows off her dance moves in a splendid choreographed dance routine. And then onto the trans-Altantic ocean liner SS Normandie and later back to New York City and Long Island.
As Cole Porter himself, Victor Bonanno is excellent, conveying the personality and persona of the legendary composer and songwriter (he wrote both the music and lyrics) who lived from 1891 to 1964. So too is Dustin Andersen as Gerald Murphy, who effuses the confidence of a seasoned pro on stage, as do Catriona Gilham as Linda Lee Thomas and Maiken Thamdrup as Ethel Merman. All in all, an excellent ensemble cast working together under the eagle eye of director Neil Johnson who knows how to get the best out of everyone.
The first act of nine scenes is an hour; with a fifteen-minute intermission, followed by the second act, also with nine scenes, also almost an hour long. But don't leave your seats straight after the finale - there is one more surprise in store, with the best choreography of the evening left to the last!

"Too Darn Hot!" is being performed at the Centre Culturel Hollerich on Thursday 24, Friday 25 and Saturday 26 November at 19:30 and on Saturday 26 and Sunday 27 November 2022 at 15:00. Seating is at tables of eight, in cabaret style. Tickets cost €20 for adults and €15 for children and students. Tickets are still available for the Saturday matinee, online at: https://www.pirateproductions.lu/Public/home.php, as well as via email: tickets@pirates.lu or via tel: 356339.

Pirate Productions was named after a production of "The Pirates of Penzance" at the American School in Luxembourg. It normally puts on one production each autumn and, in some years, another production in the spring. Although it has done some Gilbert & Sullivan in the early days, it now focuses on both Broadway-type musicals and more intimate (cabaret-type) productions, it has veered away from the operetta-style production.