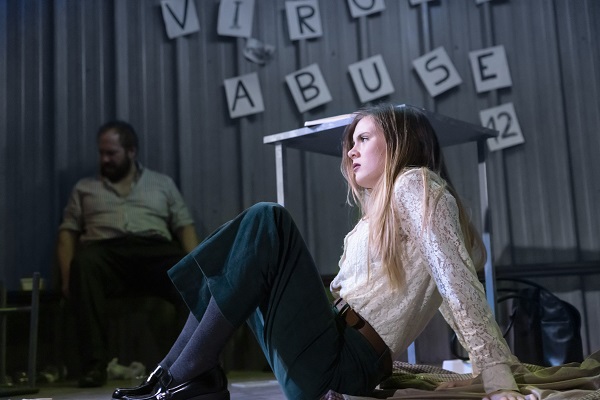 Credit: Bohumil Kostohryz
Chronicle.lu had the opportunity to sit in on the opening night performance of Théâtre de Centaure's first English-language production, "Blackbird", on Thursday evening.
Directed by Luxembourgish dancer-turned-actress-turned-director Myriam Muller, this powerful take on Scottish playwright David Harrower's 2005 play of the same name sees local talents Jil Devresse and Jules Werner put on a gripping, no-holds-barred performance as Una, a young woman in her twenties, and Ray, a middle-aged man who abused Una as a child, respectively.
Set in a drab office breakroom, "Blackbird" depicts an explosive confrontation between Una and Ray fifteen years after the latter sexually abused the former when she was just twelve years old. After a stint in prison for statutory rape, Ray appears to have created a new life for himself, having changed his name, moved towns and found a new job. This is all turned on its head when a ghost from his past returns to haunt him: Una has found him and wants him to understand how his actions changed her life forever.
Interestingly, spectators are taken on a journey (past and present) that shows how both their lives were permanently altered by Ray's actions. Whilst the play in no way serves to justify his abusive behaviour, it depicts his internal conflict and how he has tried to cope with his actions; during his confrontation with Una, he is forced to relive and truly face what he has done to her. We see him go through various stages and emotions: from uneasy and nervous to angry – why has she come here? – to trying to comfort Una and eventually showing some remorse and recognition of his crimes, but later trying to rationalise his behaviour and returning to a phase of denial. Ray also tries to shift the blame onto Una – behaviour to which Una, who unlike Ray did not get a chance at a new life, has become accustomed since the abuse revelations came out and she was ostracised from her community. In the eyes of law enforcement and her neighbours, she was not the "perfect victim".
Unable to forget what he did to her all those years ago, Una is here now to force Ray to relive her horrific trauma with her, to fully understand the consequences of his actions and what she sacrificed for him. The power dynamics have shifted; she is an adult now and it is she who is taking control for once. Like Ray, we see Una go through a range of emotions, from being calm and collected at first to hurt, infuriated and even shocked by the extent of Ray's denial. As such, both the abuser and the victim/survivor are given a voice and thus the play does not paint a black and white picture, although it does not condone the actions of the abuser.
Shifting from a fast-paced two-person dialogue (or rather a verbal tug-of-war) to emotionally charged monologues, accompanied by fitting sound and lighting effects, Jil Devresse and Jules Werner brilliantly portray the ways in which both the abuser and the survivor's lives have been ruined (and intertwined) forever by the former's actions. The actors' stellar performance of David Harrower's controversial play (controversial for its portrayal of both sides) was met with a long round of applause from the audience at Théâtre du Centaure.
The acting was complemented by Myriam Muller's directing skills, music by Claire Parsons, lighting design by Antoine Colla and costumes and set design by Anouk Schiltz.
For those who missed the opening night, additional performances of "Blackbird" are scheduled to take place at Théâtre du Centaure in Luxembourg-Ville on 11, 16, 18, 23 and 25 November at 20:00 and on 17, 20, 24 and 27 November at 18:30. Tickets cost €20 (€8 for students; Kulturpass accepted) and are available online at: http://www.theatrecentaure.lu/spectacle/blackbird/.