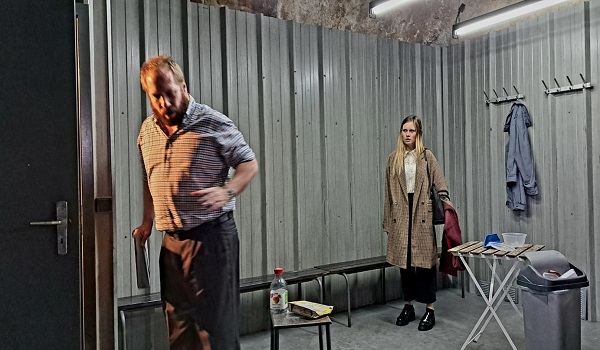 (Above) Jules Werner and Jil Devresse on stage as Ray and Una in "Blackbird"; (below) Jil Devresse; Credit: Antoine Colla / Bohumil Kostohryz
Chronicle.lu recently had the opportunity to sit down with Myriam Muller, Jil Devresse and Jules Werner to discuss their upcoming play "Blackbird" - the very first English-language production to be put on at Théâtre du Centaure in Luxembourg-Ville; various dates in November 2022 have been confirmed.
Directed by Luxembourgish dancer-turned-actress-turned-director Myriam Muller, "Blackbird" is based on David Harrower's 2005 play of the same name about a 20-something-year-old woman (Una, played by Jil Devresse) who confronts the middle-aged man (Ray, played by Jules Werner) who sexually abused her fifteen years ago, when she was just twelve years old.
Théâtre du Centaure traditionally puts on French-language plays but is now looking to branch out into English-language theatre. Myriam Muller, who is Vice-President of the Board of Directors and Artistic Director of Théâtre du Centaure, confirmed that the theatre team hopes "Blackbird" will be the first of many English-language productions at the theatre. She touched on the challenges associated with this in Luxembourg, not only concerning the audience but also in terms of finding the right local actors who can perform in English. Language plays a particularly important role in "Blackbird" which Myriam described as a "language ping-pong". She recalled that the cast did readings in both English and French but that the original English-language version was the "obvious" choice. "The form of the play and the language gives you a dynamic you don't have in French", she elaborated.
In terms of the choice of this particular play, Myriam explained how she had tried to link this with the theme of the new season at Théâtre du Centaure: consent. Having read "Blackbird" in the past, she decided to re-read it only to realise just how relevant the play is today. "We still, as women, have to struggle to be heard about what sometimes happened in the past or still to be heard today", she said, adding that the play was interesting in that it does not offer a "black and white" view, instead giving both sides a voice. "I think it's also important to hear the man because then you understand the patterns. You understand why it happens", explained Myriam. "I think if we want to stop those abuses, we and young women must detect how those men function psychologically, just to avoid that it happens again". She added that such an approach was important for a sociological play.
Jules Werner added that this was perhaps the most controversial aspect of "Blackbird": giving the man, the abuser a voice - without, however, trying to condone or excuse his actions. Rather, as Jil Devresse noted, the play serves in part "to understand how this can happen, to see both sides and see this is the way it happens and why, what are the patterns".
Regarding the cast, Myriam confirmed that she had had both Jil and Jules (who both starred in season one of Capitani, among other projects) in mind when she chose the play. "Here in a small theatre, you can really cast and even do the play for the [actors]. […] Here it was really almost written for them", she said. Rehearsals began in early October 2022. Speaking about the cast and crew's fast-paced schedule (with opening night set for 10 November 2022), Jules noted that it was sometimes "quite nice to be forced to just get on with it and find solutions". Myriam added that the rather short timeframe was particularly useful for productions with just two actors and especially for such an "intense" play.
For the character of Una, Jil explained that it had been important to inform herself "about victims of sexual abuse, especially in this young age, and to see how those people cope with what happened with them, how they can live with this trauma that they have". In addition to the material provided in the play itself, the cast did a lot of their own research on this subject. For Jil, the role of Una is "very different" from roles she has played previously, both in terms of the character and the language - this is her first English-language play. "The language in the play is very direct and very natural. It's not really staged. To play it in this form is new for me", she said, adding that she had never played a character with "this kind of trauma". However, she enjoyed the intensity of "Blackbird" and having to search for different emotions whilst exploring what such trauma does to people even years later.
For the character of Ray, Jules shared the challenges of playing such an abusive character: "It's quite difficult to imagine what it would be like to be with a twelve-year-old. That's really disturbing to me. But then, trying to understand the way he copes with whatever happened is very interesting". He added: "What's important to me is that it should never become an excuse for what he's done but, as an actor, you still have to think about how these things happen, because they do happen quite a lot". He added that the play addresses the "power dynamic of the man being linked to sexuality", adding that as an actor, it was useful to "find parallels with moments of abusing power in your own life", albeit to a lesser extent to those portrayed in the play. Jules added that the play was also interesting in that Ray is forced to face the consequences of his actions. Having served some time in prison, he believes this chapter of his life is closed... until Una confronts him about it. The play thus follows "two people try to figure out how they landed there and how they try to get out and what the future might be". Having trained in London, Jules is no stranger to English-language theatre and has performed in plays of a similar rhythm, with "quick, exciting language", although these were in French. Nevertheless, this is "the touchiest subject" he has tackled in a play.
On the subject of Luxembourg's theatre scene in general, Myriam, Jules and Jil agreed that a mix of schools or ways of performing kept things interesting; indeed, Jules trained in London, Jil studied in Berlin and Myriam trained in Paris. "It's a very rich theatre scene that we have", said Jules, although he admitted that English-language productions were still lacking. For Myriam, she lamented a lack of performance dates: "When you play over a few months, then the play really grows. Rehearsing is the part we really enjoy but the play really starts at the opening night. And we never get the chance to explore the characters as much as we could". On the other hand, Myriam, Jules and Jil appreciated the intimate, "family"-like relationship between Luxembourg's actors. "Because it's such a small place, what is nice is that you have this instant intimacy. […] Just because we're all a part of this little Luxembourg family", said Jules.
Performances of "Blackbird" are scheduled to take place at Théâtre du Centaure (4 Grand-Rue, 1660 Luxembourg) on 10, 17, 20, 24 and 27 November at 18:30 and on 11, 16, 18, 23 and 25 November at 20:00. Tickets: €20; €8 reduced; Kulturpass also accepted. Further information and tickets are available online at: http://www.theatrecentaure.lu/spectacle/blackbird/.