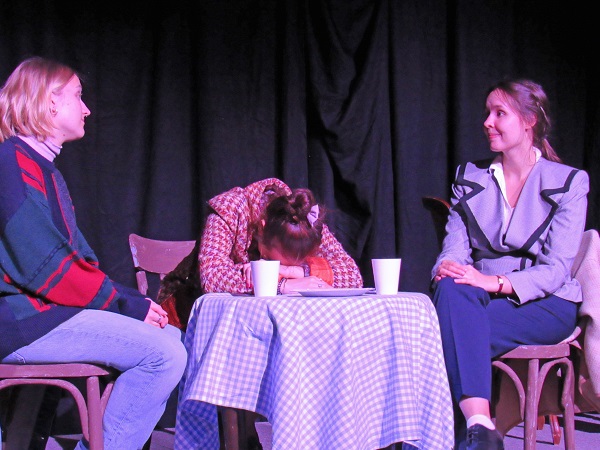 Di and Viv and Rose; Credit: BGT
Chronicle.lu got the opportunity to sit in on the opening night performance of the BGT English Theatre Company's latest production, "Di and Viv and Rose", at Neumünster Abbey (neimënster) in Luxembourg-Grund on Thursday evening.
Directed by the talented father-daughter duo Tony Kingston and Ferelith Kingston, this refreshing take on Amelia Bullmore's bittersweet comedy about female friendship sees local actresses RachelKathryn Lloyd, Céline Planata and Lina Peller captivate audiences in their respective roles of Di and Viv and Rose.
The play spans three decades, starting with the characters as bright-eyed and bushy-tailed eighteen-year-olds, with quite different personalities, who leave home for the first time to study at university in the early 1980s and following them on their intertwined journey of discovery and friendship as they navigate the ups and downs of everyday life, right up to 2010. The play addresses issues such as the joys and stress of student life and sharing a flat with strangers (at first), to exploring one's sexuality, the challenges of coming out, what it means to be a good friend, the transition to working life, parenting and even grief.
The audience laughed – and cried – along with Di, the sporty peacekeeper, Viv, the mature and hardworking (but at times judgemental) intellectual and Rose, the energetic and sometimes naïve friend who wears her heart on her sleeve, as they grow up together and deal with life's curveballs. RachelKathryn, Céline and Lina manage to flawlessly portray the characters in the different stages of their lives, as they mature and figure out who they are and who they want to be, in the space of just two hours.
The on-stage chemistry between the three actresses is undeniable, with all three putting on a stellar performance. Whilst the play showcased the raw talent of everyone on this all-female cast, RachelKathryn particularly stepped up to the challenge of leading some of the more emotionally charged scenes, in which she gave her all – and it paid off.
The play flows smoothly despite the time shift(s) not only as a result of the top-notch acting but also owing to seamless scene and costume changes, the sound effects, music and lighting, particularly thanks to stage crew Caeli Colgan and Josie Hatch, lighting technician Catríona Gillham and sound technician Marc Kaysen. All of this sets the scene for the colourful lifelong friendship of Di and Viv and Rose.
"Di and Viv and Rose" is BGT's fourth annual English-language summer project for trainee actors. It follows performances of "Wolves Are Coming For You" (2019), "David's RedHaired Death" (2020) and "The Road to Huntsville" (2021), and focuses on showcasing local female talent and putting women (literally) centre stage.
Additional performances of "Di and Viv and Rose" are scheduled to take place in Salle José Ensch in neimënster on Friday 30 September and Saturday 1 October 2022 at 19:30. Tickets cost €20 (€12 for students; €1.50 with Kulturpass) and are available online at: www.neimenster.lu.