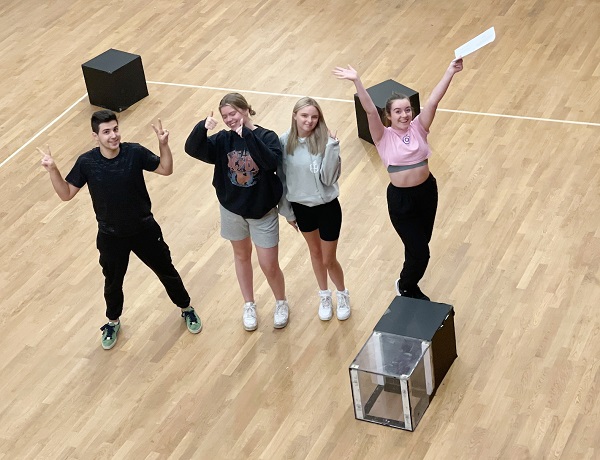 St George's drama students;
A group of students from St George's International School in Luxembourg-Hamm and their drama teacher are embarking on an opportunity of a lifetime – staging an original production at the Edinburgh Fringe 2022.
Over the past two years, teacher Clare Williams and eight of her drama students have written and produced "Names I Have Known You By", a modern tragedy about a couple dealing with loss by replaying their memories as a coping mechanism.
The group leave for Edinburgh this weekend and will stage their production from 22-27 August at the Greenside Theatre in Edinburgh.
The project has been a long time in the making and brings together former students from around the world. "I had a group of A-level drama students who graduated during lockdown. They had created a devised piece as part of their course and we decided it was experimental and gritty enough to take to the Fringe Festival in Edinburgh," Ms Williams said.
Unfortunately, the pandemic restrictions on travel, social gatherings and large-scale public events meant the project had to be put on hold. In the meantime, the original cast graduated and moved all over the world. "One member of the cast, Blagoj Naumov [stage name Blayze Schuylar-Lewis] stayed in touch even though he lives in New York now and we worked together over Facetime, Zoom and WhatsApp to develop the script," Ms Williams said. "Then Amelie Marchand, who graduated a year later, came on board as movement director even though she is now also living in New York."
The remaining cast includes four 2022 graduates – Alessandro Stasi, Alan Stock, Ella Clinnick and Olivia Sparvell – and Kieran Donnelly, a professional actor based in Oxford who Ms Williams taught at Wheatley Park School in 2002.
The group is performing under the name 13Theatre, which Ms Williams established two years ago as a way of bringing former students together to create theatre. "The idea is that once students leave Year 13 drama in school, they become part of 13Theatre and have the opportunity to propose ideas and audition for roles in projects," Ms Williams said.
The experience of performing at the Fringe is like no other. "Besides performing in a professional venue and having something great for their CV and social media profiles, they will also need to drum up interest in their play by speaking to people on the street while they hand out flyers," Ms Williams said. "Casts often find themselves performing to very small audiences at the start of their run at the fringe which can be daunting. They will also be able to connect with other actors while they are there. Hundreds of performers descend on Edinburgh each year in August so the opportunities for networking are vast."