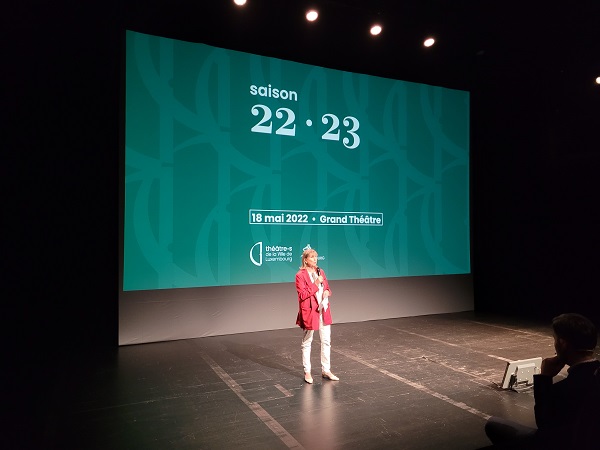 Lydie Polfer, Mayor of Luxembourg City; Credit: Jazmin Campbell
At a press conference on Wednesday 18 May 2022, the Théâtres de la Ville de Luxembourg presented their programme for the 2022/23 season, which will kick off on Monday 27 September 2022.
Lydie Polfer, Mayor of the City of Luxembourg (Ville de Luxembourg – VdL) and President of the programme committee (Commission des programmes), opened the press conference with a message of solidarity to the people of Ukraine, noting that around 5,000 Ukrainians have arrived in the Grand Duchy since the Russia-Ukraine war broke out on 24 February 2022. She went on to reflect on the impact of the COVID-19 pandemic which continued into the 2021/22 season and thanked audiences for their support during this challenging period. Despite the continued challenges associated with the pandemic, the current season has drawn over 20,400 spectators so far, compared to just over 19,200 during the 2020/21 season. Mayor Polfer also thanked the actors and the Théâtres de la Ville de Luxembourg team for their flexibility and adaptability throughout the health crisis.
Tom Leick-Burns, Artistic Director and General Manager of Théâtres de la Ville de Luxembourg, added that the goal now is to "reconnect with audiences" and show them "why the theatre remains unique". The Théâtres de la Villes de Luxembourg have also been working to develop further their existing programme framework, for instance reintroducing monthly thematic meetings, all the while keeping "theatrical experience and exchanges at heart". Another goal for the new season is to create a "theatre for all", reaching new audiences and communities, particularly those who are marginalised. Part of this mission will see the inclusion of sign language and "relaxed performances" for people who require a more relaxed theatre environment.
The press conference continued with a video presentation of the 2022/23 season, the tagline of which is "Au plus près de l'émotion" (closer to the emotions).
The new season will once again feature a diverse range of works from the worlds of theatre, circus, dance, musicals and opera. It will open with a performance of Wolfgang Amadeus Mozart's Singspiel in three acts Die Entführung aus dem Serail (The Abduction from the Seraglio), in German with French and German surtitles, at Grand Théatre on Tuesday 27 September 2022 at 20:00. Additional performances are scheduled for the same place and time on Thursday 29 September and Saturday 1 October 2022.
English-language productions
English-language highlights include performances of Treemonisha, the world's first opera conceived for a non-white cast adapted by Cape Town-based theatre company Isango Ensemble, at Grand Théâtre on Tuesday 25, Wednesday 26 and Thursday 27 October 2022 at 20:00. This reinvention of Scott Joplin's 1911 opera is in English, with excerpts in Xhosa and Zulu.
Another English-language highlight is British dramatist, author and theatre director Alexander Zeldin's most recent play, "Faith, Hope and Charity", about marginalised people in a run-down community hall who decide to start a choir. Performances are scheduled to take place at Grand Théâtre on Thursday 27 and Friday 28 October at 20:00 and on Saturday 29 October 2022 (relaxed performance) at 18:30.
An English-language performance of "Subnormal Europe", the brainchild of multimedia artist composers Oscar Escudero and Belenish Moreno-Gil, will take place at Théâtre des Capucins on Thursday 17 November 2022 at 20:00, as part of the "rainy days" festival in partnership with Philharmonie Luxembourg.
Kurt Weill's Broadway sensation "Lady in the Dark" will be performed in English (with French and German surtitles) at Grand Théâtre on Thursday 24 and Saturday 26 November 2022.
Spectators will have the opportunity to experience a glamorous Parisian ballroom in virtual reality in the end-of-year show "Le Bal de Paris" by Blanca Li at Grand Théâtre from Wednesday 28 to Saturday 31 December 2022 and from Monday 2 to Saturday 7 January 2023. Spectators have a choice of languages from English, French, German and Spanish.
Theatre Re will present "The Nature of Forgetting", a play (in English, albeit with little spoken text) about the challenges facing a man living with early onset dementia, at Théâtre des Capucins on Friday 13 and Saturday 14 January at 20:00 and on Sunday 15 January 2023 at 17:00.
Another highlight for English-speaking audiences will be Ella Hickson's "The Writer", an experimental play about contemporary gender relations and their effect on artistic creation, to be performed at Grand Théâtre des Capucins on various dates in March and April 2023 (18, 21, 22, 24, 28, 30 and 31 March and 1 April 2023 at 20:00).
Moreover, the Opéra de Lille will bring Henry Purcell's 17th century opera "The Indian Queen" to life at Grand Théâtre on Friday 21 and Saturday 22 April 2023 at 20:00. The production is in English with English and French surtitles.
English actor, playwright and theatrical director Simon McBurney and his theatre company Complicité are returning to Les Théâtres de la Ville de Luxembourg next spring with a brand-new production based on Nobel-winning Polish writer Olga Tokarczuk's novel: Drive Your Plow Over the Bones of the Dead. Performances are scheduled to take place at Grand Théâtre on Thursday 11 and Friday 12 May 2023 at 20:00. Actors and actresses from Luxembourg will have the opportunity to audition for this play.
Also on the programme are various dance performances, for which, as Tom Leick-Burns told Chronicle.lu after the press conference, there is no language barrier, as well as wordless plays such as Belgian theatre collective FC Bergman's "300 el x 50 el x 30 el", which will be performed at Grand Théâtre on Thursday 12 and Friday 13 January 2023 at 20:00.
Once again for the new season, there are several Luxembourg (co-)productions on the programme, such as the German-language play "En Escher Jong" (about the life of Luxembourgish actor René Detlgen), the Luxembourgish-language play (with English and French surtitles) "All d'Déieren aus dem Bësch" and the Luxembourgish- and French-language storytelling show "Tell it again, Sam".
The full programme for the 2022/23 season is now available online at https://theatres.lu/fr/programmation?newseason=1
Multi-show subscriptions are now on sale, with tickets going on general sale from Saturday 2 July 2022.
Additional date for 2021/22 season
The press conference was also the occasion to announce changes to the current 2021/22 season, which was originally set to close on Friday 1 July 2022, with a dance performance by Martin Zimmermann, but will now end on Tuesday 5 July 2022, with a brand-new show by all-female Ukrainian band Dakh Daughters.
The band, which first gained international recognition with their YouTube music video "Rozy / Donbass" in 2013, shared a message via video clip at the press conference. Their new show, "Danse Macabre", is a direct response to the Russia-Ukraine war; it features elements of a documentary mixed with music. This 1.5-hour performance, which was added to the 2021/22 season programme only very recently, will take place in Ukrainian (with English and French surtitles) at Théâtre des Capucins on 5 July at 20:00.
Supporting artists
Tom Leick-Burns also announced at the press conference new support schemes for artists in Luxembourg. The "Studio Libre" initiative will allow artists to spend ten days in the Grand Théâtre, accompanied by experts, working on a specific technical aspect of their creation. The Théâtres de la Ville de Luxembourg also plan to launch an associated artists programme which will initially support five well-known Luxembourg artists: Ian De Toffoli; Myriam Muller; Anne Simon; Renelde Pierlot; Elisabeth Schilling. Further details to follow.
He also recalled that the deadline to apply for the Future Laboratory initiative, in which twelve European performing arts institutions (including the Théâtres de la Ville de Luxembourg) are working together to support emerging artists, is Friday 20 May 2022. Further information is available at http://www.futurelaboratory.eu/find-out-more