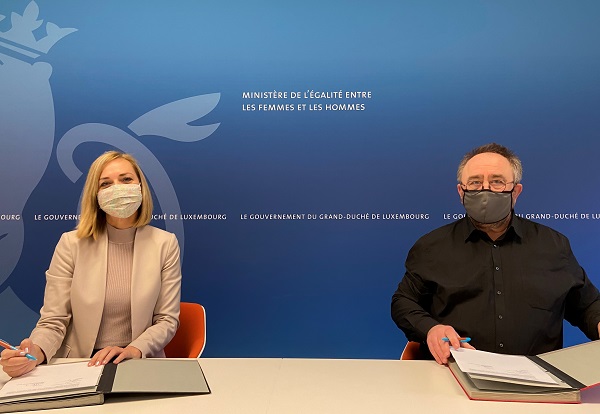 L-R: Taina Bofferding, Minister of Equality between Women and Men; Alain Holtgen, Director of Art Attitudes ASBL; Credit: MEGA
Luxembourg's Ministry of Equality between Women and Men and the non-profit association Art Attitudes have signed an agreement for a new theatre project for the prevention of domestic violence.
This new project will be launched at the municipal level to reach all communities in the Grand Duchy.
The concept of forum theatre started in 2011 with a project of the Confédération de la Communauté Portugaise au Luxembourg (CCPL) in the Portuguese language and for the attention of the Portuguese-speaking community. It was offered until 2018. Luxembourg's Minister of Equality between Women and Men, Taina Bofferding, is now relaunching forum theatre with an offer in several languages.
The objective of this project, implemented by the École du Théâtre, is to tackle the taboo and de-stigmatise domestic violence. This involves raising awareness of equality between women and men and the impact of gender stereotypes, raising the awareness and responsiveness of all members of society and informing about the existence of legal provisions and regulatory sanctions against domestic violence. The participatory approach of forum theatre and the staging of different situations of domestic violence will make it possible to present all facets of violence. The public will be invited to take an active role and express themselves on the subject.
During the signing of this agreement, Minister Taina Bofferding emphasised: "A forum theatre tells a story that makes us think and awakens civic sense. Violence hurts. We want to provide tools to understand the facets of domestic violence and encourage everyone to take action". The project is part of a comprehensive approach by the ministry to thwart rising tensions, escalation and worsening of violence and prevent domestic violence and gender-based violence.
The development of this new project is being done in consultation with the members of the cooperation committee between professionals in the field of the fight against violence, in particular the services taking care of victims and perpetrators of domestic violence, the judicial authorities and the police. Around half a dozen performances are planned for 2021, depending on the possibilities and sanitary arrangements. The theatrical interventions are available in four languages ​​(Luxembourgish, French German, English).