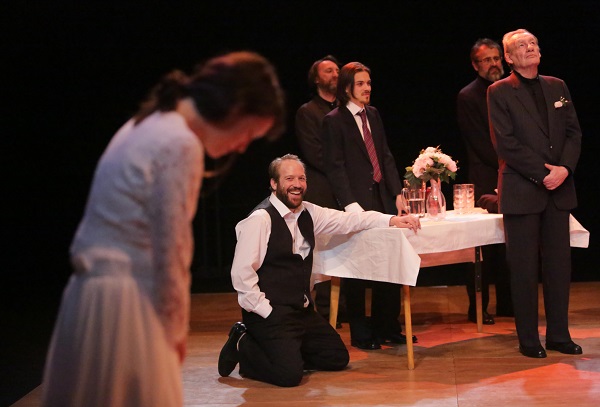 Breaking the Waves; Credit: (c) Boshua
The Théâtres de la Ville de Luxembourg have announced that their production "Breaking the Waves", directed by Myriam Muller and presented at the Grand Théâtre in February 2019, will be presented at the prestigious Zagreb World Theatre Festival in Croatia on Saturday 28 September 2019.
Following a successful tour in February-March this year in Belgium and France, "Breaking the Waves" will next be showcased in Zagreb later this month. Myriam Muller's production will share the stage with "Un ennemi du peuple" in a staging by Thomas Ostermeier (Schaubühne Berlin production) and Rimini Protokoll's "Nachlass" (Théâtre Vidy-Lausanne production). Indeed, this marks the first time that the Zagreb World Theatre Festival has invited a Luxembourgish director to participate since its creation in 2003.
"Breaking the Waves", based on the screenplay by Lars von Trier, David Pirie and Peter Asmussen, takes place on a desert island, where Bess, a psychologically fragile young woman, finds love with Jan. However, Jan falls victim to a serious accident and is paralysed. Bess is ready to do anything to save him. Jan asks her to continue to love, to find a lover and tell him about her sexual pleasures. In a hostile social context, Bess's sacrifice causes Jan's miraculous healing. For this closed, sectarian and hyper religious world, Jan appears as a threatening intruder. The production thus draws parallels with the European socio-cultural context of today.
Created 17 years ago, the Zagreb World Theatre Festival's mission is to invite internationally renowned foreign theatre companies to Zagreb to introduce them to the Croatian public. Some of the biggest names in international theatre have been represented in recent years, such as Pjotr Fomenko, Lev Dodin, Oskar Koršunovas, Luc Bondy and Stanislas Norday. The festival also attracts a large international audience.