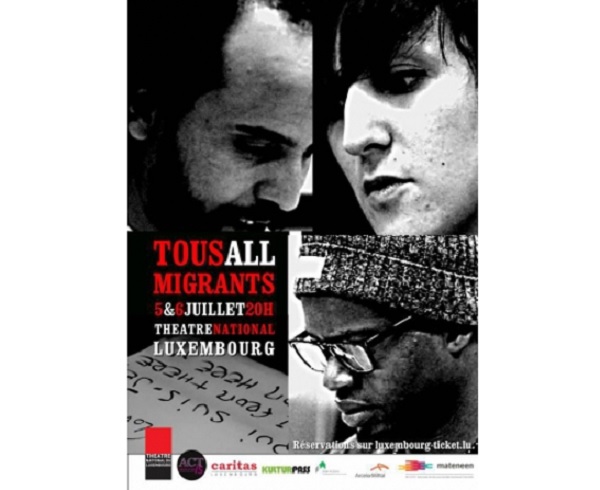 The theatre project ACTIS D'ICI ET D'AILLEURS is presenting a new stage production entitled TOUS/ALL MIGRANTS at the Théâtre National du Luxembourg (TNL) at 194 Route de Longwy, L-1940 Luxembourg-Merl on Thursday 5 and Friday 6 July 2018, with performances at 20:00 both evenings.
The group comprises around 15 nationalities all living in Luxembourg, some settled, some refugees, others asylum seekers. Together they will present the play over two evenings which will give you an insight into their vision of the migration situation in Europe and Luxembourg.
The group focused initially on refugees who, after travelling great distances sometimes in extremely difficult conditions, found themselves in Luxembourg, a country that has become their land of temporary or permanent asylum. The project was then opened up to Luxembourg residents whether they were immigrants or not, native or expats, wishing to share their lives with the refugees.
The message of this refugee-resident project is an important one: Erase prejudices in whatever way we can, and this is reflected in the stage production of TOUS/ALL MIGRANTS. It is a very visual theatre piece by the 25 actors and will make you think and question society, as well as take you on an emotional journey through migrants' lives.
After the show, an exchange between the actors and the audience will take place aiming to answer questions and provide continuity to the project.
Tickets Cost €15 from www.luxembourg-ticket.lu/en/8/eid,13849/start,0/detail.html