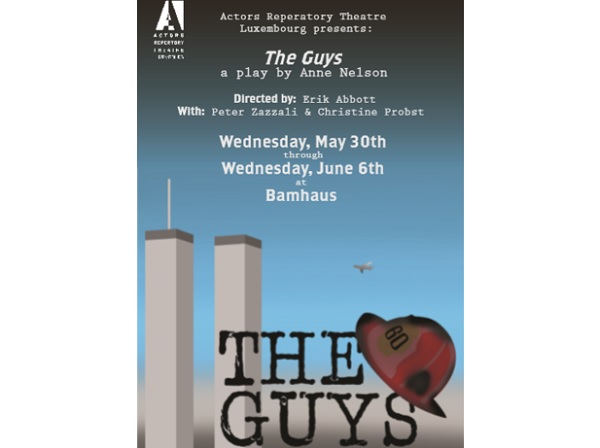 Theatre isn't just entertaining. Sometimes . . .it's important.
It is difficult to distill the essence of an intimate, moving piece of theatre like 'The Guys' a few hours after seeing it. How much more gargantuan then, must it be to attempt what its characters must do - to capture a sense not of an 80 or 90 minute play, but of a person – a person who had family and friends, hobbies, habits, a past and dreams of the future – in just a few words.
'The Guys' tells the story of Nick, the NYFD captain who has lost eight men in 9/11 and must somehow find the words to honour them, and of Joan, the editor who helps him shape his memories and feelings into beautiful eulogies. Anne Nelson wrote the play based on her own experience of helping Captain Nick Flanagan, and the members of Luxembourg's Actors Repertory Theatre who are bringing this hit play (and later made into a film) to Luxembourg can also draw on their own personal experiences of 9/11. Director Erik Abbott, Christine Probst who plays Joan, and Peter Zazzali who plays Nick, were all living in New York City on the day of the attack.
That is one of the reasons Abbott felt compelled to bring this cast together and this story to the stage in Luxembourg, but it is not the only one. Although it is based on one tragic event and gives us a fascinating glimpse into the day-to-day life of firefighters, "The Guys" is a timeless story that helps us see the connection between people brought together by tragedy and ultimately, between us all.
The Bamhaus, where the play is being performed, is an apt location - it feels like a firestation, with its brick walls and industrial feel. Missing person bulletins are taped along one wall and two armchairs transform the stage into Joan's living room, where, gently prodded by Joan's thoughtful questions, Nick can reach below the barrier of his own pain and beyond the limits of his communication skills to share anecdotes of the men who he loved and lost. Joan may not have the magic she longs for to "rewind the video" and make the towers reassemble out of rubble, but she does have the sensitivity and skill to help Nick bring his men back to life in words.
Bringing people to life is also the task of actors. Probst and Zazzali have also used their sensitivity and skill to give us a believable Nick and Joan, but even more importantly, to give us Bill Dougherty, Jimmy Hughes, Patrick O'Neill and Barney Keppel, the firefighters being eulogised.
Nick tells Joan that he welcomed every newbie that joined his team with a warm handshake and the confident assurance that firefighting was "the best job in the world'. In one of the eulogies, Joan has him expand that by saying it is also the most important. You could say the same about what Abbott, Probst and Zazzali are doing. Sure, it must be the best job in the world to get to take on different roles, to throw everything you've got into a wide range of characters, to live so many lives. But what they are doing in The Guys is not just interesting and entertaining, it is important.
It is also important for us to be reminded that every firefighter lost was someone like us, like our partners, our parents, our children. That every person whose name and photo appears on a missing person bulletin, every gravestone, every write-up of the victims of school shootings, every traffic accident report, every number added to the toll taken by epidemics are people like us and those we love.
And that each of us is Nick and Joan. People whose lives have been deeply touched by others, people who have had their chests stomped on by heartbreak, people who have to find a way to carry on after great loss. And that all of us, like all the people in this play and all the people involved in bringing it here, are connected. If everyone felt that to their core, events like the one that sparked this play would never happen. Go see this play. It is important.
Performances on 30 & 31 May, 1, 2, 4, 5 & 6 June at 20:00 daily, also a matinee at 15:00 on 3 June. Tickets €20 (Students €10) from ActorsRep.tickets@gmail.com or tel: 356339.