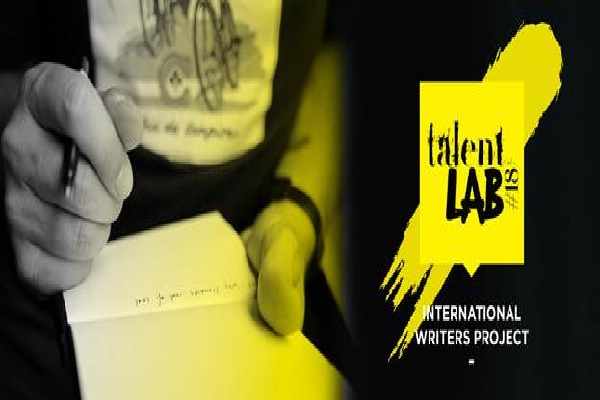 As part of the International Writers Project, a series of stage readings will be held on 26, 27, 29 and 30 May 2018 at 18:00 at the Théâtre du Centaure in Luxembourg City.
To mark this year's focus on contemporary writing, Les Théâtres de la Ville de Luxembourg have joined forces with Birmingham Repertory Theatre and the Centre national de littérature to commission a series of short plays by writers from Luxembourg and the UK on the topic of the various pressures on today's generation Z. Following a research residency in Birmingham and a rehearsal period in Luxembourg, six different plays were developed and will be presented as rehearsed readings at the Théâtre du Centaure during the TalentLAB#18.
Five of the six plays are in English and one in German.
The first, "Dead Endings", written by Claire Thill and directed by Bethany Kapila, will take place on Saturday 26 May 2018. The play stars Catherine Elsen and Jacques Schiltz and will be performed in English. Claire Thill is a multilingual performer, writer and playwright from Luxembourg. She trained as an actress at the Royal Central School of Speech & Drama in London and with Philippe Gaulier in Paris and has worked with different international collectives all over Europe. Her latest creation Blackout, a dark phantasmagoria inspired by horror films, opened recently at the Théâtre des Capucins as part of the Capucins Libre residency programme. She writes in English and German.
The second play in English, "Geist", will also take place on 26 May. Written by Stef Smith and directed by Hannah Jones, the play stars Claire Thill, Whitney Fortmueller and Maximilien Jadin. Stef Smith's work includes: Girl in the Machine and Swallow (Traverse Theatre); Human Animals (Royal Court); Remote (National Theatre Connections Festival); Tea and Symmetry (BBC Radio). Her critically acclaimed show, Roadkill, won numerous awards, including an Olivier Award for Outstanding Achievement in an Affiliate Theatre. Most recently Stef took part in the BBC Drama Writers Room and her current commissions include the Traverse Theatre, the Citizens Theatre, West Yorkshire Playhouse, the National Theatre of Scotland and the National Theatre.
On Sunday 27 May, a rehearsed reading will be given of Rafael David Kohn's (writer) and Hannah Jones' (director) play "Smile", starring Jacques Schiltz and Whitney Fortmueller. Rafael David Kohn started his theatre career as a stagehand at Théâtre du Centaure. After his studies at University of Arts in Berlin he made his debut as a playwright in 2009 with bushmeat at Bühnen der Stadt Gera. In 2010 he directed his play Flaschenbrandin Luxembourg, Lupenrein was produced in 2011 by Theater 89 in Berlin. So far 13 of his plays have been performed in Germany, Luxembourg, Romania and Togo.
The same day, Charlene James' (writer) and Bethany Kapila's (director) play "Marque II" will be performed in English by Waleed Akhtar, Rita Reis and Oliver Wellington. Charlene James was writer in residence at the Birmingham REP in 2013 for their season focusing on mental health and her play, "Tweet Tweet" premiered at The Birmingham REP before touring. Charlene was awarded the George Devine Award in 2015 and Most Promising Playwright at the Evening Standard Theatre Awards 2016. She is currently writing on A Discovery of Witches for Bad Wolf/Sky and is under commission from the Royal Court and Royal Exchange Manchester.
The fifth play, written and performed in German, will be Olivier Garofalo's short play "Zwie Zombie", scheduled for Tuesday 29 May 2018. Directed by Rafael David Kohn, the play stars Catherine Elsen and Jacques Schiltz to date (casting in progress).
The final rehearsed reading will be of short play "H.O.L.L.A.N.D (Hope Our Love Lasts And Never Dies)", taking place on Wednesday 30 May 2018 in English. Written by Chloe Moss and directed by Bethany Kapila, the play currently stars Rita Reis (casting in progress). Chloe Moss is an accomplished playwright and screenwriter. Her celebrated play This Wide Night (Clean Break, Soho, 2008) won the prestigious Susan Smith Blackburn prize and was subsequently produced off Broadway, starring Edie Falco. Chloe has written numerous other plays including The Gatekeeper (Royal Exchange Theatre, 2012), Fatal Light (Soho Theatre, 2010 & 2011), Catch(Royal Court, 2006) and How Love is Spelt (Bush Theatre, 2004 & New York's Summer Play Festival, 2005). She is currently under commission to the Royal Court and Headlong Theatre and has also written extensively for television.
The rehearsed readings will be followed by a Q&A session.
Free entry. Register at Luxembourgticket, www.luxembourgticket.lu or via tel. +352 47 08 95-1.