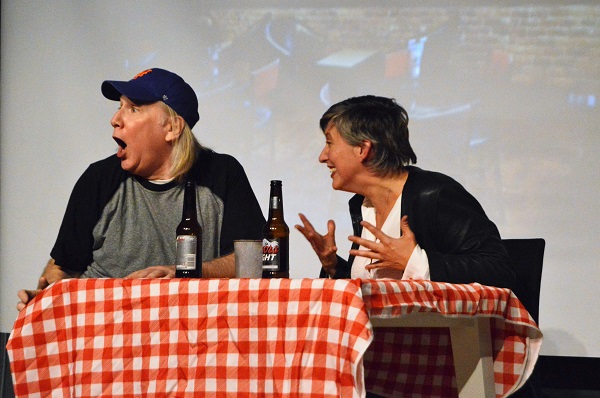 Actors Repertory Theatre Luxembourg has announced details of its next production: The Fever, by Wallace Shawn, for October 2016.
A play for one performer (originally Shawn himself) written in 1990, The Fever tells the story of a traveller whose journey to a poor country triggers a personal moral crisis. With searing language and Shawn's trademark wit and humour, The Fever confronts and questions what it means to live in privilege in an era of economic disparity. In a January 2015 interview with Shawn during the play's London revival, the Guardian described it as 'a ferocious meditation on the inequities of global capitalism'.
Shawn wrote The Fever to be performed by any actor, male or female, young or old. Actors Rep's production will feature Christine Probst and Erik Abbott in alternating performances — offering audiences two different takes on this riveting piece.
The Fever will be presented as a café production at the popular Luxembourg Ville landmark Café Konrad (7 rue du Nord, 2229 Luxembourg). Audience members will be able to enjoy Konrad's hospitality and order food and drinks from the menu before and after the show.
Performances will be on 12, 13, 15 and 19, 20, 22 October, all at 20:00. Tickets are €20 (Students €10) and will be available directly through Konrad's. Details on ordering tickets to be confirmed later.
Peter Zazzali will direct. Zazzali has directed at theatres including The Actor's Playhouse and Manhattan Repertory Theatre in New York, New Jersey Repertory Theatre, and the Texas Shakespeare Festival. In 2015 he directed The Good Doctor at the Western Australia Academy for Performing Arts in Perth, Australia, and earlier this year directed a sold-out production of Waiting for Godot at the Gardens Theatre in Brisbane. As an actor he has performed with theatres including The Acting Company, Target Margin Theatre, and the Utah Shakespeare Festival. Zazzali is also well-known as an actor trainer and theatre scholar. Currently an Assistant Professor of Theatre at the University of Kansas, his book, Acting in the Academy: The History of Professional Actor Training in US Higher Education, was just published by Routledge.
The Fever was originally performed by Shawn in an apartment on the Upper West Side in New York City. Shawn intended the piece to be one that could be performed anywhere, one of the qualities that makes it an excellent fit for a familiar and intimate setting such as Café Konrad. The play was revived in New York in 2007 and adapted by Shawn for a 2004 film version. The 2015 London production by the Almeida Theatre was staged in a suite at the Mayfair Hotel.
Photo by Sarah Graham of Erik Abbott & Christine Probst in Flowers in the Desert in October 2015