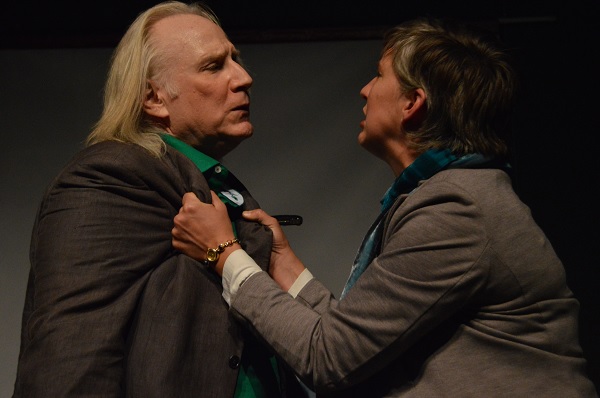 Can you ever go back?; that was the question separated couple Britt (Christine Probst) and Joe (Erik Abbott) asked themselves in last night's 'Flowers in the Desert', the latest theatrical piece from the Actors Repertory Theatre Luxembourg.
'Flowers in the Desert' was written by award-winning American playwright Donna Hoke and has now been brought to Nature Elements along Route d'Esch by director Timothy Lone. The play opens with bubbly art-lover Britt professing to ex-husband, the rather immature Joe, her renewed love for him at their old haunt Mo's Bar and Grill.
What follows is an exploration of what lies in a marriage and the couple's struggle to find the happy medium between retrieving what they had whilst embarking on a fresh start. This is achieved through a wonderful symbiosis of comedy and drama, set against the running backdrop of Mo's, a perfect metaphorical purgatory between a symbol of their stale previous marriage and a declaration of their endeavours to renew their love for each other once more.
Britt is determined that this time will be different, rejecting Joe's sexual advances to redo the first time around when they "jumped into bed on the first date". Her structured idealistic view of how to renew the relationship is at odds with Joe's more laid-back viewpoint, with the latter unable to understand why everything cannot just continue as normal. Seated at a table at Mo's Britt explains "We're not picking up from where we left off, otherwise we'd be in the same place", to which Joe replies "But we are in the same place!"
Whilst repeated declarations of their love for each other are made, the inherent difficulties in their attempts to reconcile their differences for the sake of their children are palpable; Britt's pursuit of sharing her passions of art and literature with Joe is met with a non-committal shrug of "I'm just a regular guy. I like burgers and baseball and beer".
But try, try and try again they do, with Joe joining on a visit to an art gallery – becoming visibly more interested upon the discovery that certain pieces are thought to represent female genitalia – and Britt donning a baseball cap to watch a game , with the couple unexpectedly united through the unlikely appearance of Bruce Springsteen. As Joe realises "we can't go back, we can only go forward", a new piece of information comes to light threatening to ruin everything they have tried to create together.
Christine and Erik feed well of each other, with their characters' authentic little displays of affection making the audience inwardly root for the couple through their struggles whilst remaining painfully aware that it may all be futile.
'Flowers in the Desert' combined the award-winning writing of Buffalo-based playwright Donna Hoke with the acting prowess of Probst and Abbott. Erik Abbott is Co-Founder and Artistic Director of the Actor's Repertory Theatre, with 35 years of experience acting, directing and writing. Christine Probst forms part of the Associate Artistic Staff at the Theatre and has been nominated for a Best Actress Award at the Festival of European Anglophone Theatrical Societies for her portrayal of Jolly in the eponymous play by David Mamet. Christine also performed in 'Design for Living', Luxembourg Ville's first English language production, and received critical acclaim for her role as Toby alongside Rhona Richards in the recent Actors Rep production of 'Greyhounds' .
'Flowers in the Desert' will be performed at 19:30 on 5, 8 and 9 October 2015, and at 18:00 on 4 and 11 October 2015. Tickets for a 3 course meal and show cost €40, with show-only tickets costing €20 and student tickets €10. Tickets are available from www.actorsrep.lu.
Photos by Sarah Graham