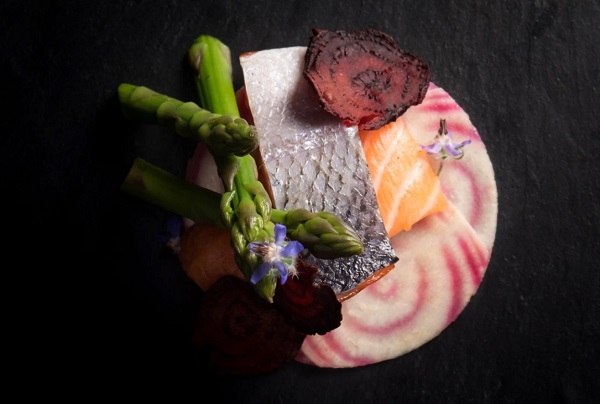 Credit: Dans le Noir? Luxembourg
Since last November, a new restaurant dedicated to the concept of dining in the dark opened its doors at Novotel Luxembourg Kirchberg, with services initially being offered theee evenings a week (Thursdays to Saturdays).

The concept launched following an earlier attempt in Luxembourg city; the Novotel Luxembourg Kirchberg is no longer the only one offering this experience; however, it is the most established.

"Dans le Noir?" is a French chain of restaurants currently available in seven countries and eleven cities (Paris, London, Madrid, Brussels...), where guests are served meals in complete darkness; it expanded to the Grand Duchy in partnership with Novotel Luxembourg Kirchberg.

Last week, Chronicle.lu got the opportunity to try it out.

Greeted in the hotel lobby by two staff members who explained in much detail what was about to happen, including going over dietary requirements, etc., with coats, bags and phones (re light, not necessarily noise) remaining outside the dining area.

After a relaxing chat over a cocktail while waiting for others to arrive, our group of six were introduced beforehand prior to a detailed briefing of what to do and what not to do once inside. With 42 covers that evening, meal times were staggered, with the first group of six allowed in on time at 19:30. Walking in single file, each with our hand on the shoulder of the person in front, we were led into complete darkness to our table and chairs, and were seated. We would not move from there for two and a half hours - it actually felt like just half that time.

This was one of the feelings, or senses, that felt "warped": not only did time fly, but we were all prepared to be in complete darkness throughout the meal. That was actually the easy, at least straight-forward, part. What we had not prepared ourselves for was the significantly increased dependency on our other senses, particularly hearing... As we could not see, and neither could the serving staff who are all visually-impaired, the only way to get their attention was by sound, using our voice. However, as we were consciously straining our ears to distinguish every sound in the dining room, we were also talking loudly among ourselves so that it became difficult to hear conversation and, crucially, to hear what our server was saying. But we could not communicate to call them over to ask for something, e.g. another drink or salt and pepper. But we did try to recognise the voice of our server. And when they were serving, we could not be sure who had been served, etc.

Another sense that was heightened was touch / feel. Not that we touched our food; no, this was using cutlery - whether a spoon or and knife and fork - to feel where food was on a plate in front of you, deciding on whether you needed to try to cut it or not, and then to try to get it on the fork and up to your mouth.
And taste - even though I pride myself on having a good "nose" for smells, this was one area in which I was surprised - that I was not able to smell much from the plates. Maybe if the meal had involved more pungent ingredients such as chillies, that could then have been different.

Then there was the challenge of passing the basket of bread around to everyone on the table - nobody dared to ask for butter... Dropping a napkin on the floor meant giving it up as lost...

For drinks, there were different wines with the three courses (served by the glass), and water, etc., which was served by the bottle, meaning that you needed to carefully judge how much to pour, etc.

After we had finished eating, we were brought back out, again very slowly and in single file, where we first acclimatised to the bright lights of the hotel before being debriefed on what we had been eating - this is where our sense of taste came in as it was not always clear what we had been eating. This I will not divulge in case a reader decides to participate; those that have tried it and would like to return are advised that the summer menu will be launched in June.

Quick tip: unless you go in a group of six and know everyone beforehand, try to get to know the other diners at your table as much as you can before you enter... And if you are hard of hearing, or if you are not fluent in French (do not let that put you off), make sure you inform the staff at the reception desk first and they will ensure they will help you.

The price of these three-course meals starts at €55.

To book a table, see https://luxembourg.danslenoir.com/.