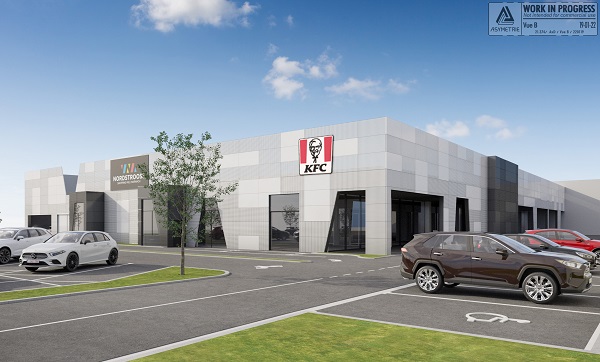 KFC project at Nordstrooss Shopping Mile Marnach; Credit: Nordstrooss
The American fast food restaurant chain Kentucky Fried Chicken (KFC) has announced that it will soon be entering the Luxembourg market.
The first two KFC restaurants in Luxembourg are set to open their doors in the north of the country in 2023: in Nordstrooss Shopping Mile Marnach (near Clervaux) and at another location in Pommerloch (near the Belgian border).
"We are ready to enter the market in the Grand Duchy of Luxembourg", stated Geoffrey Gobraiville, Senior Real Estate Belux-France at EG Group, the operator of the two future KFC restaurants in Luxembourg. "Given the high profile which KFC already enjoys in the neighbouring countries, the logical next step is to enter the Luxembourg market".
The two first KFC restaurants in Luxembourg will feature a modern feel, a new layout and design, together with a range of new recipes. The concept will include a terrace and a drive-in, as well as a delivery service.
However, expansion will not be limited to these two restaurants. Whilst the Nordstrooss and Pommerloch sites will be the first KFC restaurants to open in Luxembourg, initial analyses carried out by EG Group have indicated that there is potential in the market for a total of between five and ten KFC restaurants operating in the Grand Duchy.