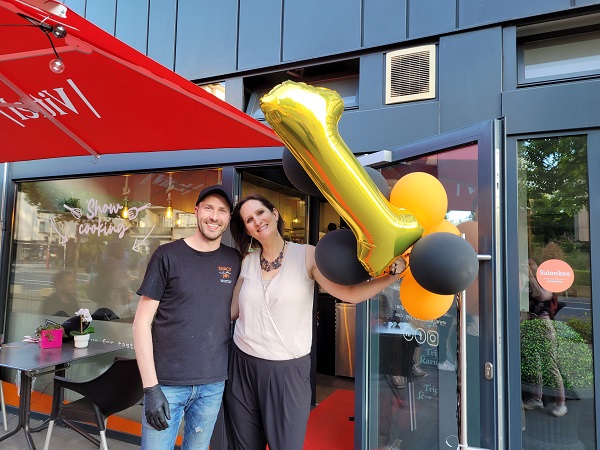 Linda and Benoît, the entrepreneurial couple behind Snack in Joy; Credit: Jazmin Campbell
On Friday evening, Snack in Joy, a vegan restaurant on Boulevard Royal in Luxembourg-Ville, celebrated its first anniversary with a free tasting event.
The celebrations took place on the restaurant's sunny terrace, directly opposite Hotel Le Royal, which was decorated with balloons and tables on which sangria and finger food was served. Inside, guests could enjoy a show cooking experience as the staff brought out various veganised dishes, from Liège meatballs and bouchée à la reine to chili sin carne and mini burgers topped with melted vegan cheese.
Speaking to Chronicle.lu, Linda Depaye, one half of the entrepreneurial couple behind Snack in Joy, explained their concept: to create 100% vegan dishes that taste like traditional (meat) dishes. The goal is for customers not to taste the difference – and this seemed to be the case on Friday 13 May 2022.
Linda noted that she and her husband, Benoît, had invited friends over in the past to try vegan recipes and they were always pleasantly surprised at the taste, quality and diversity of the dishes. She said they had proven that vegan food was not boring. With Luxembourg still offering only a limited choice of vegan offers, the couple decided to fill a gap in the market.
Linda and Benoît had planned to open their restaurant on 13 March 2020. Two days later, however, Luxembourg entered into its first COVID-19-related lockdown. In late summer 2020, Snack in Joy was born, although it would not officially open its doors until May 2021. All the while, the owners had to pay rent for the premises – an additional financial challenge during an uncertain period. Plans to open a large terrace had to be put on hold. One year later, Snack in Joy has a loyal customer base, as well as new customers coming in, often not realising or even noticing that the food is vegan, thus meeting Linda and Benoît's goal.
The restaurant also has a bright and airy upstairs seating area, which is more popular among customers during the colder months.
Snack in Joy is located at 25 Boulevard Royal in Luxembourg-Ville (L-2449). Opening hours: Monday to Saturday, 11:30 to 20:00.