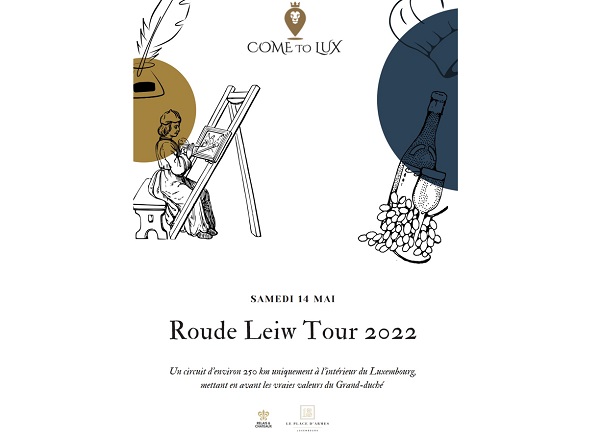 Come to Lux has announced that it is organising the Roude Léiw tour 2022, a gastronomic tour of Luxembourg by car on Saturday 14 May 2022.
This 230 km car journey within the Grand Duchy will focus on the country's culture, gastronomy, oenology, history, sport, art and nature.
After leaving from the art gallery of the headquarters of Banque Internationale à Luxembourg (BIL) in Luxembourg City, where breakfast will be served to participants, the tour will pass in front of Septfontaines Castle, then the Valley of the Seven Castles, the Roman villa in Mersch and its famous dragon, before proceeding to Berg Castle in Colmar-Berg, the main residence of His Royal Highness the Grand Duke of Luxembourg.
A first stop, at the equine and breeding society's stables in Elvange, will allow participants to meet with Nicolas Wagner Ehlinger, a Luxembourg dressage rider who competed at the 2020 Tokyo Olympic Games.
The route will continue around the Upper Sûre Lake, Wiltz Castle and Clervaux Castle. Afterwards, a gourmet lunch will be served at Urspelt Castle.
The tour will continue to Vianden Castle, then the crossing of Mullerthal, Bourglinster Castle and along the Moselle river to Stadtbredimus in south-eastern Luxembourg.
A stopover for a tasting of Crémant from Domaines Vinsmoselle is foreseen at Stadtbredimus Castle, the former residence of Luxembourg poet Edmond de la Fontaine.
Later, participants will arrive at Galerie Schlassgoart in Esch-sur-Alzette for a cocktail dinner.
The cost per participant is €150 including tax. The price includes breakfast, a gourmet lunch, a Crémant tasting, entry to Galerie Schlassgoart and a cocktail dinner, as well as a "Road Book" and explanations of the different places they will pass on the tour.
Places are limited to 52 people (maximum of 25 cars). Those wishing to attend should transfer €150 to the bank account of JR LUX: IBAN LU04 0030 5430 2553 0000; BIC code BGLLLULL.