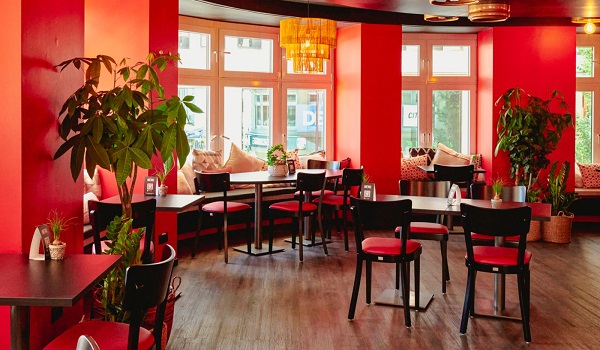 Kin Khao City; Credit: Concept+Partners
Concept+Partners has announced that it is opening a new Thai restaurant and cocktail bar in Luxembourg City later this month.
Following the success of its first Thai restaurant Kin Khao in Luxembourg-Kirchberg, Concept+Partners is opening its second Kin Khao establishment in the heart of the capital, a few steps away from the Royal-Hamilius tram stop at 32 Rue de la Poste, L-2346 Luxembourg. Kin Khao City will have its grand opening on Thursday 23 September 2021.
Kin Khao City's menu was shaped by chef Wachira Chaipinidnorrachart, also known as Yo, who is originally from northern Thailand. Dedicated to offering downtown patrons an authentic experience of his Thai cuisine, Chef Yo has concocted a varied menu that reveals the authentic flavours of all of Thailand, with dishes for all tastes and diets.
The restaurant uses authentic and locally sourced Thai ingredients and boasts a kitchen team specialising in this traditional culinary art.
Chef Yo commented: "Since my arrival, my goal has been to introduce people to Thai cuisine. Rich and varied, it can be introduced in many ways".
The interior of Kin Khao City has been decorated to match the Thai theme. The upstairs offers a view of the open kitchen, enabling restaurant-goers to see Chef Yo and his team preparing Thai classics (which are also available at Kin Khao Kirchberg) as well as new products such as a finger food menu.
Kin Khao City was inspired by the cocktail bars of metropolises to offer a unique experience in terms of cocktails in a cozy setting in Luxembourg. The restaurant has a large garden-style outdoor terrace, and a range of original cocktail creations are on the menu.
Mixologist bartender Nikos, originally from Greece, has created a new menu with a variety of classic and original cocktails. Among the original cocktails, the "Au Revoir M. and Mme. Habilis" stands out for its unique taste and presentation. Its ingredients are forest mushrooms, bourbon, mint, anise, lime and grapefruit.
At noon, the restaurant offers reduced-price weekly set menus from Monday to Friday. Customers can choose between two different starters and three main courses. At least one vegetarian option will be available.
Kin Khao City also offers takeaway and a delivery service, in partnership with Goosty.