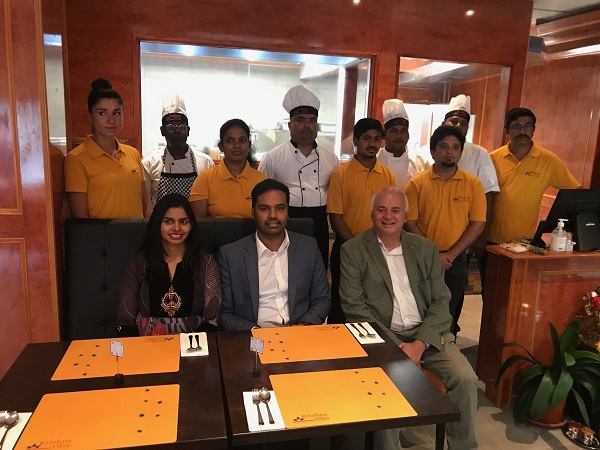 Krishna Vilas Opening;
On Sunday 29 August 2021, a new Indian restaurant opened in Luxembourg: this one of different, though, as its cuisine is from Southern India with a focus on vegetarian dishes - in Luxembourg, most other Indian restaurants offer cuisine from northern India and Nepal.
Krishna Vilas opened at 63 Rue du Fort Neipperg in Luxembourg-Gare. Husband and wife team, Sai Sumanth Pattem (who works in the fund management business) and Sai Arpita Immaneni (who works in IT), have been in Luxembourg for around three years, and have become a franchisee of the Krishna Vilas chain.
Kris Ramanmurthy, the brand owner, hails from Hyderabad and have lived in Sydney, Australia: he opened his first Krishna Vilas restaurant in Den Haag in The Netherlands in 2018, with others following in Utrecht and then in Eindhoven in 2020. He was in Luxembourg for the opening and, following the formal ribbon-cutting by guest of honour Selvaraj Alagumalai, he explained what he described as "exponential growth" over the past three years of the brand. He explained the concept of traditional south Indian cuisine with highly-skilled chefs who produce the same level of dining experience here in Europe as in the south on India. He also revealed that the day is an important day in India where the birth of Krishna is celebrated.
Sai Sumanth Pattem thanked Selvaraj Alagumalai whom he introduced as the President of the Indian Association Luxembourg (IAL), who came to Luxembourg in 1992 when it was very different to what it is today, forging the way for Indians in Luxembourg regarding business licences, etc.
Selvaraj Alagumalai talked briefly about the challenges of both setting up businesses and finding good Indian food in Luxembourg. He thanked Kris Ramanmurthy for setting up the restaurant brand and both Sai Sumanth Pattem and Sai Arpita Immaneni for taking out the franchise.
Sai Arpita Immaneni thanked all invited guests for coming to the inauguration and for supporting their new venture. She revealed that it took 10 months of planning to put the project together.
In talking with Chronicle.lu, Sai Sumanth Pattem confirmed that the kitchen staff are from Chennai in India. They have two chefs they recruited themselves, with another two from Krishna Vilas in The Netherlands who in Luxembourg for three months to train the others. They also have 6 front-of-house staff, three of whom will be on duty at lunchtimes and the other three in the evenings.
The restaurant seats 75 people at a time and offers authentic vegetarian North Indian curries served with Naans/Rotis in addition to Dosas (as served at the inauguration) and other Southern Indian vegetarian dishes.
For details, see www.krishnavilas.com