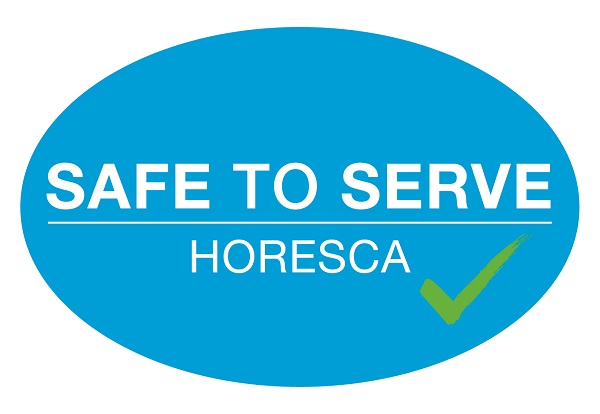 HORESCA, Luxembourg's federation for the hotel, restaurant and cafe sector (HoReCa), has begun preparing for deconfinement and the reopening of establishments with the launch of the "Safe to Serve" label.
Despite the ongoing uncertainty over the date of resumption of HoReCa activities in the Grand Duchy, HORESCA has anticipated the reopening of establishments by focusing on increased safety and user-friendliness.
To this end, the federation has implemented a strategy, supported by various instructions and various recommendations which are in addition to the official instructions given by the Luxembourg government. HORESCA stressed the need for companies to respect all health practices to guarantee the safety and health of employees and customers while continuing to offer a positive customer experience.
In this context, a vast campaign illustrated by the "Safe to Serve" label has been developed. Supported by the Ministry of the Economy, the General Directorate of Small and Medium-sized Enterprises and the General Directorate of Tourism, as well as the Luxembourg Chamber of Commerce, this campaign brings together a whole series of actions aimed at resuming activities in the best possible conditions.
In this context, a guide to health recommendations specially designed for the HORECA sector will be sent out soon. Since last Friday, this guide can already be viewed and downloaded by all HORESCA members on the website www.horesca.lu. The guide, available in English, French and German emphasises clear and precise instructions, as well as the sanitary measures required ahead of reopening.
Professionals are invited to sign a membership charter to obtain the "Safe to Serve" label, by which they agree to respect at least four essential criteria:
registration of the establishment with the Government Commissariat for Quality, Fraud and Food Safety;
compliance with good hygiene practices and HACCP principles;
compliance with the government's "COVID-19" instructions;
the implementation of all the necessary procedures guaranteeing the maximum possible safety for customers and employees (social distancing, wearing a mask, etc.).
The establishments signatory to this charter will display the "Safe to Serve" label. This label serves as a guarantee that the establishment in question is taking all the necessary sanitary measures and that it is able to welcome customers in the best sanitary conditions, comfort and friendliness.