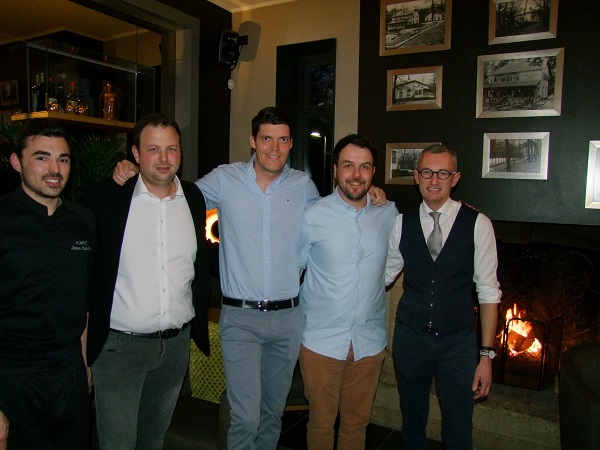 L-R: Jean-Charles Albert, chef; Marc Fusenig, partner; Christophe Diederich, partner; Jerome Bigard, partner; Frederic Royer, manager; Credit: Geoff Thompson
On Monday evening, the Restaurant Parc Le'h in Dudelange (1 Rue de la Forêt) opened its doors and hosted a VIP reception with politicians and local dignitaries in attendance at the official opening.
Situated in a green setting on the outskirts of Dudelange in the Parc Le'h, the restaurant is surrounded by forests with multiple walking trails frequented by nordic walkers and dog walkers and includes an Adventure Parc in the trees as well as various curiosities throughout the park and a permanent open-air stage for summer concerts.
Described as "semi-gastronomic", the restaurant offers a contemporary and cozy ambiance, offering a creative cuisine, comprising both à la carte dishes from the Luxembourg region and the essentials of French cuisine.
Starters (€12 - €21) include tartare dishes (beef, salmon), meat and fish dishes as well as salads. And meat dishes include beef, lamb and duck, with fish dishes of cod, zander and sole, as well as Luxembourg specialities such as Bouchée à la Reine and Cordon Bleu, also pasta dishes, with prices from €19 - €43. They also serve a children's menu (€12 - €14). Desserts range from €3 - €15.
The Restaurant Parc Le'h also offers a bar menu (€3 - €20).
The Restaurant Parc Le'h is run by Concept + Partners and is located at 1 Rue de la Forêt, L-3471 Dudelange, tel.: 519990, email: info@parcleh.lu. There is ample parking at the restaurant.