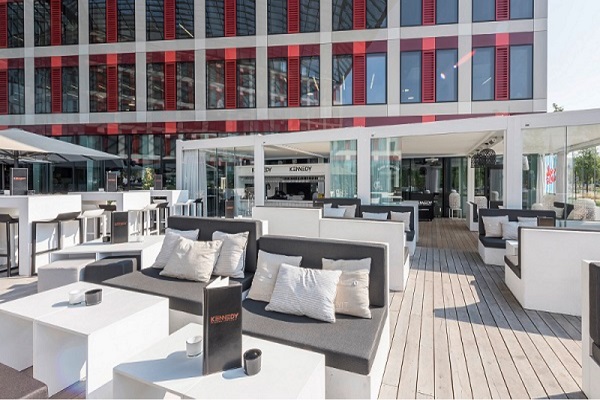 Credit: Geoff Thompson
The Brasserie KENNEDY has recently launched a new menu at its Pergola by KENNEDY indoor/outdoor (covered) bar located at 35e Ave JF Kennedy in Luxembourg-Kirchberg.
With guests welcomed personally by Brasserie Manager, Oto Horacek, we found the setting most welcoming and both comfortable and informal, ideal for a midday or after-work chat with friends / colleagues over a cocktail or craft beer, with a delicious range of dishes to order from the bar.
Executive Chef, Aart Polderman De Jong, has designed the menu which is shaped by his experiences while working around the globe (notably in Madagascar, Asia and Scandinavia), in combination with Oto Horacek and his London background and experience.
We tasted a couple of cocktails and some of the dishes ordered from the cocktail bar; service was quick and with a smile, with the staff both eager to please and also very proud of where they were working, a great combination which can only benefit the clientele.
COCKTAILS
The wide range of affordable yet delicious cocktails offers a bit of everything from which to choose; for example:
Skandal in Åhus: "This cocktail is a tribute to Absolute vodka since this year is their 140th birthday. The original destilery is from Ahus in region of Skane, Sweden. Hence is why we named it Skandal in Åhus. It contains Absolute vodka, Liquor 43, lime juice, ginger syrup and aromatic fever tree tonic."
Chill on Megano: "Cuban style cocktail made of Bacardi, raspberry puree, liquor 43 and fresh ginger"
CRAFT BEER
In addition to the cocktails, the Pergola by KENNEDY also stocks a trendy array of craft/artisan beer: they currently work with four small Luxembourgish breweries to celebrate increasingly popular local products - these include:
1) Nowhere brewery: The philosophy of Nowhere is simple - respect for the ingredients, respect for the process and the will to provide customers with a great drinking experience. Nowhere Brewing is based in BeNeLux: they design their beers in the Netherlands, and market them from Luxembourg. From this brewery:
• Clockwork orange (on tap), named after the film of the same name, labeled Milkshake New England IPA
• Accidental wheatness, an American pale wheat ale
2) Stuff brewery: Established in 2015, Stuff is small brewery created by two beer lovers dissatisfied with what beers were available in Luxembourg, they decided to create their own in a small hidden "cave" in Steinsel. From this brewery:
• Grand Ducale, a very tasty red ale
3) Totenhopfen: Going from home to commercial brewing in 2017, Totenhopfen is already present in several European countries including Luxembourg, Austria, Portugal, Germany and Hungary. Totenhopfen was awarded by RateBeer the 2nd Best New Brewer in the World, Best Luxembourgish Brewer as well as Best New Luxembourgish Brewer of 2018, with many other accolades and awards too. From this brewery:
• The award-winning Gravitational collapse, a delicious stout
4) Bare brewing: a small brewery in Hesperange. From this brewery:
• PLZNR, a Czech-style Bohemian Pilsner: a lovely pale golden colour, this beer has aromas of cereals with both spicy and floral notes from the Saaz hops used to make it.
DISHES (as introduced by Aart, the Executive Chef):
Black cod: "a dish that is absolutely booming in London and all over the world at the moment. It is an example of Nikkei cuisine that has been introduced originally by Nobu and since then other great restaurants have included Black cod on their menus. The magic of Black cod is in its sauce which is miso-fermented soya beans."
Quesadillas: "I was very keen to come up with an interesting an unusual vegetarian dish. I played with the idea of combining pumpkin and feta cheese as I think it is great combination which isn't necessarily explored as much as it could. Quesadilla is relaxed approach to explore those flavours and fantastic accompaniment to your drink."
Lamb samosa: "Samosas are a popular entrée, appetizer or snack in the local cuisines of the Indian subcontinent, Western Asia, Southeast Asia, the Mediterranean and Africa. Due to emigration and cultural diffusion from these areas, samosas in today's world are also prepared in other regions. I wanted to have an Indian inspired dish on our menu and samosa has proven a great success."
Pergola by Kennedy is located at 35e Ave JF Kennedy in Luxembourg-Kirchberg.
Open: Tue-Wed 16:00-23:00; Thu-Fri 16:00-midnight; Sat 18:30-midnight (Kennedy restaurant open: Mon-Fri 12:00 - 14:30; Tue-Sat 18:30-22:30).
Tel.: 2868-2020; email: booking@kennedy.lu; website www.kennedy.lu/en
Free underground parking is available from 18:00.